United States Penitentiary Leavenworth is a medium-security federal prison in Leavenworth, Kansas. It is also known as USP Leavenworth and Fort Leavenworth Prison. USP Leavenworth Camp is adjacent to the primary institution. Male inmates are incarcerated at both federal prisons.
If you or a loved one are incarcerated at USP Leavenworth federal prison, the Zoukis Consulting Group can help. Our experts have extensive experience preparing clients for federal incarceration, resolving in-prison matters, and securing an early release from custody.
Schedule an initial consultation with us today and learn how we can help you or your loved one through this difficult time. We look forward to speaking with you soon.
USP Leavenworth Contact Information
Facility Address & Contact Information
United States Penitentiary Leavenworth
1300 Metropolitan Avenue
Leavenworth, KS 66048
Phone: 913-682-8700
Fax: 913-578-1010
Email: [email protected]
BOP Website: Bureau of Prisons Page
Wikipedia: Wikipedia Page
Inmate Correspondence Address
USP Leavenworth
Inmate Name and Registration Number
USP Leavenworth
United States Penitentiary
P.O. Box 1000
Leavenworth, KS 66048
USP Leavenworth Camp
Inmate Name and Registration Number
USP Leavenworth Camp
Satellite Prison Camp
P.O. Box 1000
Leavenworth, KS 66048
How to Send Money
Inmates may not receive funds directly. See our page on sending money to federal prisoners.
United States Penitentiary Leavenworth Inmate Information
Inmate Gender
Male Inmates
Prison Security Level
Facility Location
USP Leavenworth is located 25 miles north of Kansas City on Highway 73.
BOP Region
BOP Institution Code
LVN for USP Leavenworth
Medical Care Level
Level 2. See our page on Medical Care Levels and Procedures for more information.
Mental Health Care Level
Level 2.
Judicial District
Population Number
Fort Leavenworth Prison houses approximately 1,235 inmates. The camp houses around 250 inmates.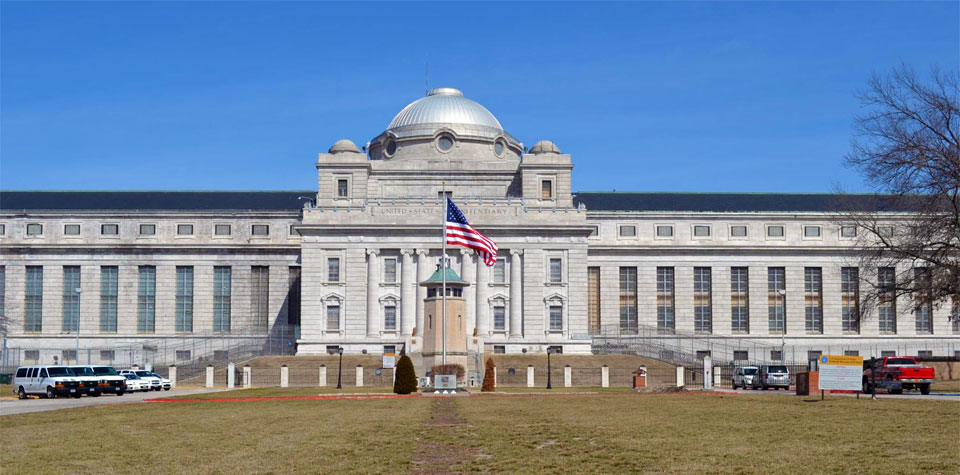 USP Leavenworth Prison Services Information
Background
United States Penitentiary Leavenworth is a medium-security federal prison in Leavenworth, Kansas. It was initially a maximum-security prison known as Leavenworth Penitentiary. Leavenworth Federal Prison Camp was opened in 1960 and is adjacent to the central institution. Both of the facilities house male inmates.
USP Leavenworth was one of the first federal prisons. It is separate from the Fort Leavenworth military prison, known as the United States Disciplinary Barracks (USDB). The Department of Justice's Federal Bureau of Prisons administers the facility.
Media reports indicate the following notable events:
At least one guard was assaulted and needed transportation to a hospital for treatment.
Three guards have been charged with smuggling contraband into the institution.
Prisoners murdered one inmate.
One inmate died of unreported causes.
One inmate died due to negligent medical care, which led to organ failure.
In addition, at least one inmate from the camp has escaped. News reports indicate that disabled visitors have been denied access to the institution because the prison is not handicap accessible.
In 2011, News One named Leavenworth Federal Prison one of the ten most notorious prisons in the United States.
Notable Fort Leavenworth Prison Inmates
Notable Fort Leavenworth Prison inmates include:
Rap artist Troy Deon Reddick: served four years for robbery.
Ponzi schemer Tom Petters: serving a 50-year sentence for conspiracy, wire fraud, mail fraud, and money laundering.
Leader of the Latin Kings gang Antonio Fernandez: convicted of conspiracy to distribute heroin and cocaine.
NFL quarterback Michael Vick: served 23 months for operating an interstate dogfighting ring.
Serial killer Carl Panzram: convicted of murdering a federal employee.
Inmate Housing
Inmates live in one-person and two-person cells. The camp houses inmates in open dormitories, with about 50 inmates per dorm.
Health Services
Available health services include intake screenings, stress management, nutrition counseling, dental hygiene, urgent care, medical and dental care, chronic care, physical examinations, and medications. While emergency care is available 24 hours a day, inmates must submit a triage form for routine health care needs.
Psychology Services
The USP Leavenworth Psychology Services Department is available to inmates Monday through Friday from 7:30 a.m. to 4:00 p.m. by appointment only. Inmates request appointments by submitting request forms. Inmates experiencing an emergency (e.g., severe depression or suicidal thoughts) should report this to the nearest staff member and are generally seen immediately by Psychology staff.
Medical services include individual counseling, crisis intervention, and special group programs. Among the group programs offered is Diversity in a Prison/Correctional Setting, which is offered several times a year. The Life Connections Program is available through Religious Services for inmates desiring to grow as responsible persons.
Residential Drug Abuse Program (RDAP)
Leavenworth federal prison has the Residential Drug Abuse Program (RDAP). A Drug Education class and the Non-Residential Drug Abuse Program (NR-DAP) are also available. The satellite prison camp also offers RDAP.
USP Leavenworth Educational, Library, and Recreation Offerings
Education Services
USP Leavenworth provides GED and English-as-a-Second Language (ESL) programs. Parenting and Adult Continuing Education (ACE) classes are also available. High school diplomas and post-secondary degrees are available through paid correspondence programs.
You can learn more about prison education offerings here.
Advanced Occupational Education
USP Leavenworth correctional facility offers advanced occupational education in Hospitality Employment and Retail Therapy (HEART) and Janitorial.
Vocational Training
Fort Leavenworth prison offers two vocational training programs, Graphic Arts and Custodial Maintenance.
Apprenticeship
USP Leavenworth and the satellite camp do not offer any apprenticeship programs.
Library Services
Leisure and law libraries are available to Leavenworth federal prison inmates. The law library has a variety of legal reference materials for use in preparing legal papers. Most of these are available in the TRULINCS Electronic Law Library. A copy machine and typewriters are available for use at the law library.
The leisure library allows inmates to check out fiction and nonfiction books. Reference books, magazines, and newspapers are available in the library for reading in the Education Department only. Cassette players for language programs (i.e., audiobooks on cassette) and video monitors for the video library program are also available for inmate use.
UNICOR
The Fort Leavenworth prison's UNICOR facility handles recycling activities and services and produces clothing and textiles.
Commissary
Inmates at USP Leavenworth can spend up to $360.00 monthly in the commissary. Prisoners can purchase food, clothing, drinks, over-the-counter medications, and electronics. Inmates use laundry bags to carry their purchases back to their housing units.
Recreation Services
The Leavenworth Penitentiary Recreation Department offers various activities to inmates. Prisoners can access an outdoor area, second-/third-floor recreation, and a gymnasium.
The Recreation Department also allows inmates to take photographs through the Inmate Photograph Program at designated locations. It has a Movie Program, which screens movies in the Auditorium. A Music Program allows inmates to utilize musical equipment or listen to CDs.
Visitation Information for USP Leavenworth Penitentiary
On Sunday, Monday, Friday, and Saturday, visiting hours are between 8:00 a.m. and 3:00 p.m. On federal holidays visiting hours are between 8:00 a.m. and 3:00 p.m. See our page on prisoner visitation rules for more information on how to visit an inmate.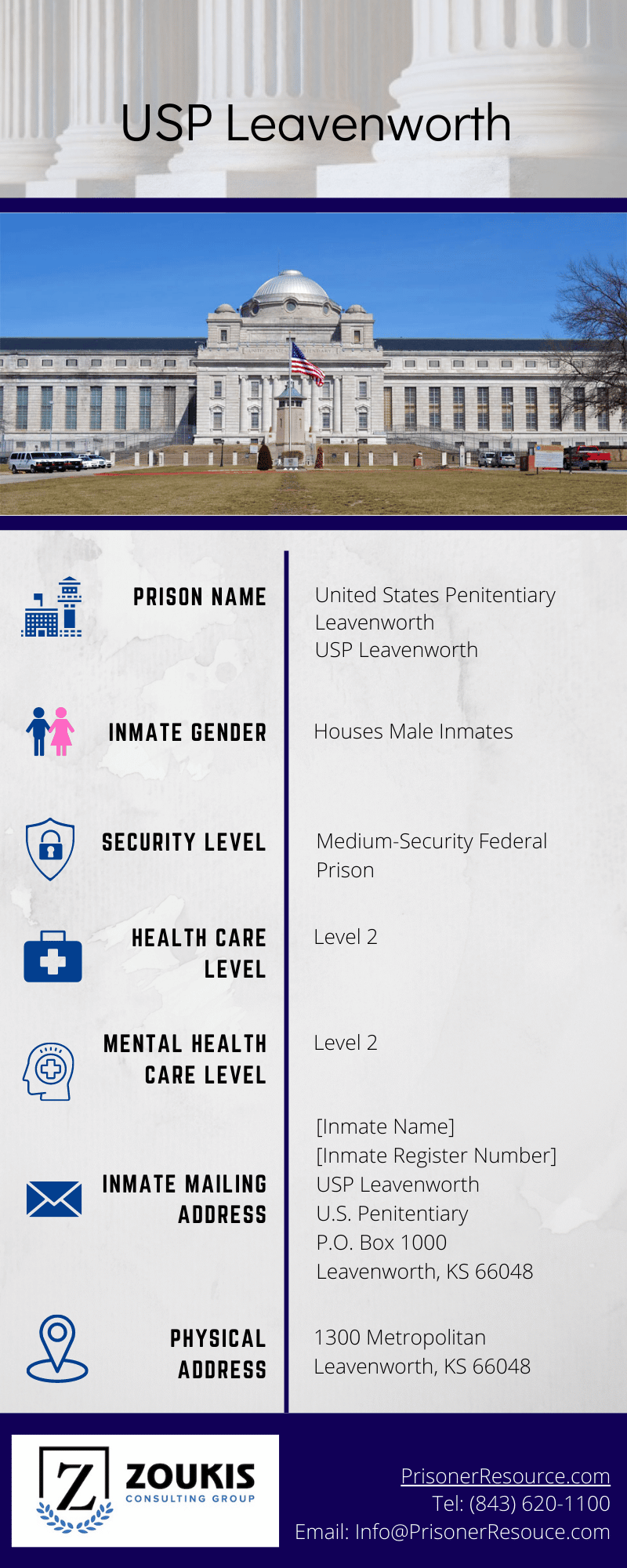 USP Leavenworth in the News
In June 2017, a prisoner at United States Penitentiary Leavenworth physically assaulted a guard, resulting in a temporary lockdown. The guard was transported to a local hospital for treatment.
In 2017, USP Leavenworth prison guard Marc Buckner was sentenced to three years for accepting more than $200,000 in bribes over ten years to smuggle tobacco and rolling papers into the facility.
In December 2016, investigative reporters at the local Fox 4 News reported that disabled relatives of inmates at Fort Leavenworth prison have been unable to visit because the accessibility lift for the front steps is frequently broken.
In November 2016, Nicole English became warden at USP Leavenworth, replacing Claude Maye, who retired in June 2016. English was previously the warden at Federal Correctional Institution Marianna and Federal Correctional Institution Waseca.
In November 2016, Benjamin Johnson, a prisoner at Leavenworth Penitentiary, was found unresponsive and taken to the hospital, where he died. The cause of death was undetermined at the time of news reports.
In May 2016, Michael Harston, a guard at USP Leavenworth, pleaded guilty to smuggling tobacco into the facility.
In February 2015, Otis Bradley, an inmate at Leavenworth federal prison who was ignored by prison medical staff until he was vomiting blood and sent to the hospital where he was diagnosed with gallstones, diabetes, and pancreatitis, died after his organs shut down and he had a heart attack.
In 2009, USP Leavenworth recreation specialist Jacob Roscoe was sentenced to a year and a day for agreeing to a payment of $1,400 to smuggle marijuana and jewelry into the prison.
In January 1997, three letter bombs addressed to Fort Leavenworth's prison parole office were intercepted and disarmed. The letters were sent from Alexandria, Egypt.
In February 1979, Thomas Silverstein, an Aryan Brotherhood prison gang member serving 15 years for armed robbery, stabbed prisoner Danny Atwell to death.
Leavenworth Federal Prison Camp in the News
In November 2016, Timothy Taylor, a prisoner at the United States Penitentiary Leavenworth Camp, walked away without authorization but later returned to turn himself in.
More Information About United States Penitentiary Leavenworth
For a comprehensive look at life in federal prison, pick up a copy of Christopher Zoukis' Federal Prison Handbook: The Definitive Guide to Surviving the Federal Bureau of Prisons. For more detailed information about USP Leavenworth, please buy a copy of the Directory of Federal Prisons: The Unofficial Guide to Bureau of Prisons Institutions by Christopher Zoukis.
Your USP Leavenworth Prison Experts
If you or a loved one is currently incarcerated at USP Leavenworth, we strongly urge you to contact our team at the Zoukis Consulting Group. We are experts in federal prison matters and can help you with everything from preparing for incarceration to securing an early release.
Don't go through this challenging time alone – let us help you every step of the way. Book an initial consultation with us today!
Published Apr 26, 2018 by Christopher Zoukis, JD, MBA | Last Updated by Christopher Zoukis, JD, MBA on Aug 2, 2023 at 1:05 pm