United States Penitentiary Lewisburg is a medium-security federal prison in Lewisburg, Pennsylvania. It is also known as USP Lewisburg. USP Lewisburg Camp is located adjacent to the main institution. Both facilities house male inmates.
USP Lewisburg Contact Information
Facility Address & Contact Information
United States Penitentiary Lewisburg
2400 Robert F. Miller Drive
Lewisburg, PA 17837
Phone: 570-523-1251
Fax: 570-522-7745
Email: [email protected]
BOP Website: Bureau of Prisons Page
Wikipedia: Wikipedia Page
Inmate Correspondence Address
USP Lewisburg
Inmate Name and Registration Number
USP Lewisburg
United States Penitentiary
P.O. Box 1000
Lewisburg, PA 17837
USP Lewisburg Camp
Inmate Name and Registration Number
USP Lewisburg Camp
Satellite Prison Camp
P.O. Box 2000
Lewisburg, PA 17837
How to Send Money
Funds cannot be sent directly to inmates. See our page on sending money to federal prisoners.
United States Penitentiary Lewisburg Inmate Information
Inmate Gender
Male Inmates
Prison Security Level
Facility Location
USP Lewisburg is located in central Pennsylvania, 200 miles north of Washington D.C.; 170 miles north of Philadelphia, Pennsylvania; and 70 miles north of Harrisburg, Pennsylvania. The institution is located approximately 2 miles off U.S. Route 15.
BOP Region
BOP Institution Code
LEW for USP Lewisburg
Medical Care Level
Level 2. See our page on Medical Care Levels and Procedures for more information.
Mental Health Care Level
Level 2.
Judicial District
Middle District of Pennsylvania
Population Number
USP Lewisburg houses approximately 590 inmates. The camp houses around 300 inmates.
USP Lewisburg Prison Services Information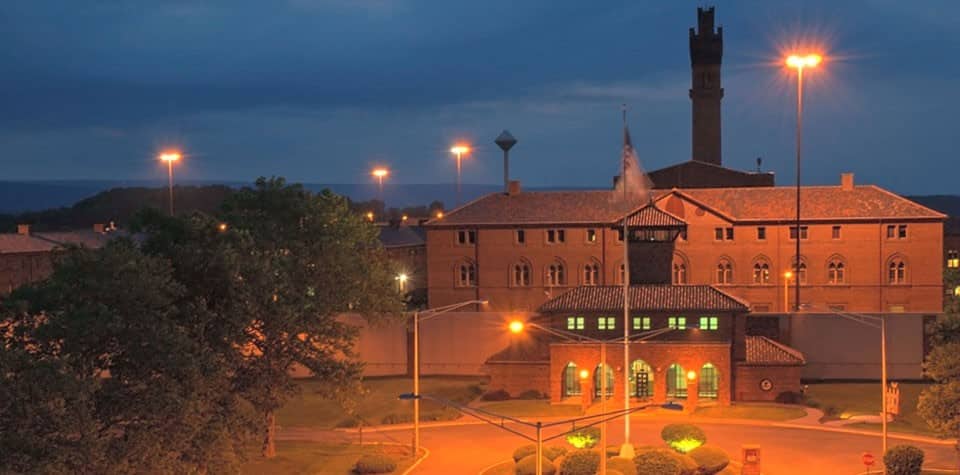 Background
United States Penitentiary Lewisburg is a medium-security federal prison in Lewisburg, Pennsylvania. It was opened in 1932. United States Penitentiary Lewisburg Camp is located adjacent to the main institution. Both institutions house male inmates.
USP Lewisburg was one of four federal prisons to open in 1932. As of 2009, Lewisburg federal prison was designated as a Special Management Unit (SMU) intended to house the most violent and disruptive inmates in the Bureau of Prisons. Although most Lewisburg Penitentiary inmates are housed in the SMU, there remains a work cadre of approximately 200 inmates in the USP's general population. The Bureau has publicly stated that the SMU is being moved to AUSP Thomson in late 2018, but that institution's activation has been delayed.
Lewisburg Federal Penitentiary has been the subject of lawsuits concerning conditions of confinement and lack of psychological treatment, as well as numerous reports detailing a significant level of violence at the facility. A joint investigation by NPR and The Marshall Project found that United States Penitentiary Lewisburg has six times more inmate-on-inmate assaults than other federal prisons.
Media reports indicate that there have been ten inmate murders, at least one suicide, at least one assault that required hospitalization, one unspecified death, one ordered gang hit, and over 800 fights since 2010. At least five inmates have been charged with weapon possession, and one guard has been charged with theft of government property. One guard was also killed while transporting an inmate to a hospital.
Ironically, in 2012, CNBC named USP Lewisburg Camp one of the 12 best federal prisons in which to do time.
Inmate Housing
USP: two-person cells
Camp: dormitories
Health Services
USP Lewisburg Health Services department provides care including:
Preventive Health Care
Medical/Dental sick call
Physical Examinations
Vaccination
Medications
Eyeglasses
Emergency care is available 24 hours a day. Routine care requires the submission of a sick call form.
Psychology Services
Psychology staff provides care in various areas, including:
Crisis intervention
Counseling
Self-Help Library
Medications
Evaluations
Inmates must contact Psychology Services in writing or during an open house to request services. Psychology staff are available in the camp for crisis intervention and brief counseling as necessary. Psychology also performs mental health evaluations by staff referral. The Health Services department works with Psychology Services to assess psychotropic medication needs. Group therapy and mental health classes are made available as time permits.
Residential Drug Abuse Program (RDAP)
United States Penitentiary Lewisburg camp has the Residential Drug Abuse Program (RDAP), but the primary institution does not. Drug Education Classes and the Non-Residential Drug Abuse Program (NR-DAP) are also offered.
USP Lewisburg Educational, Library, and Recreation Offerings
Education Services
Lewisburg federal prison provides literacy, GED, and English-as-a-Second Language (ESL) programs. A parenting program and Adult Continuing Education (ACE) classes are also available. High school diplomas and post-secondary degrees are available through paid correspondence programs.
Advanced Occupational Education
USP Lewisburg offers advanced occupational education in Business English/Information, Business English/Reading, Business Math, and Computer Fundamentals. The camp offers Desktop Publishing and Graphic Arts.
Vocational Training
Lewisburg Penitentiary and the camp do not offer any vocational training besides advanced occupational education and apprenticeship programs.
Apprenticeship
USP Lewisburg offers Commercial Housekeeping, Electrical, HVAC, and Plumbing apprenticeships. The camp does not offer any apprenticeship programs.
Library Services
Law and leisure libraries are open to inmates at Lewisburg federal penitentiary. The law library provides legal research and legal document preparation. Typewriters are provided for typing legal documents. Inmate law clerks are on duty to assist in locating legal references. The leisure library contains around 4,000 volumes, including magazines, newspapers, periodicals, fiction and nonfiction, and reference books. The leisure library includes a Hispanic library, including various books, magazines, and newspapers.
UNICOR
United States Penitentiary Lewisburg and the camp house UNICOR facilities.
Commissary
Commissary spending is limited to $360.00 per month. Inmates may only shop on their assigned day once per week. Shoes, hygiene items, candy, and various shelf-stable foods are available for purchase.
Recreation Services
Leisure and recreation programs at USP Lewisburg include indoor and outdoor areas. Leisure activities include:
Cards
Checkers
Chess
Dominoes
Handball
Table Tennis.
Music Room
Talent Shows
The Arts & Crafts Program offers various programs:
Leather Craft
Ceramics
Knitting
Crocheting
Acrylic Painting
Glass Painting
Sketching
Pastel Drawing
Crafts must occur in the hobby shop area except for pencil and ink sketching and crocheting, which are permitted in quarters. A General Public Arts & Crafts Sale is available for marketing products finished through Arts & Crafts.
Structured leagues in the Spring/Summer include:
Basketball
Bocce Ball
Horseshoes
Sand Volleyball
Tennis
Handball
Soccer
Softball
The Fall/Winter structured leagues include:
Chess
Dominoes
Flag Football
Ping-Pong
Pinochle
Pool
Softball
Spades
Visitation Information for USP Lewisburg
On Sunday and Saturday, visiting hours are between 8:00 a.m. and 3:00 p.m. On federal holidays visiting hours are between 8:00 a.m. and 3:00 p.m. See our page on prisoner visitation rules for more information.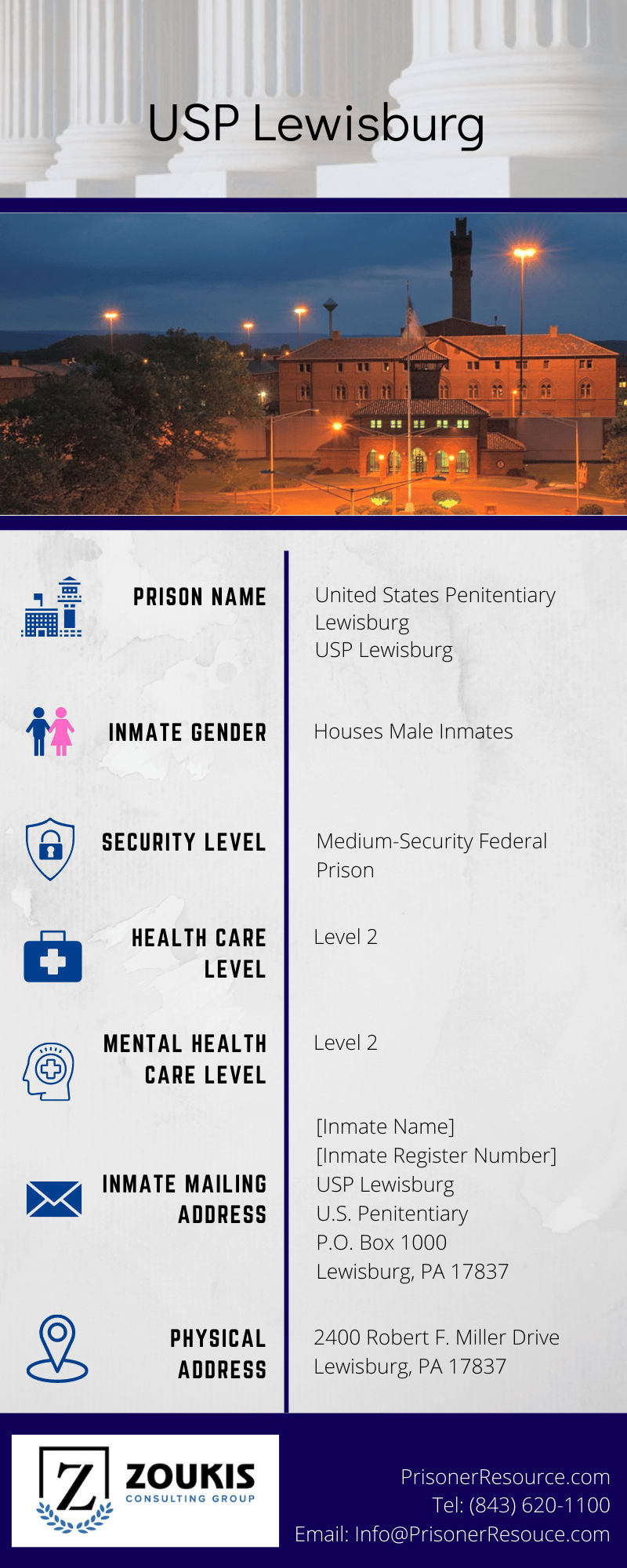 USP Lewisburg in the News
In June 2018, the Bureau of Prisons stated that the Special Management Unit (SMU) at Lewisburg federal penitentiary would be moved to AUSP Thomson beginning in late 2018. It was unclear whether several lawsuits alleging mistreatment and torture in the SMU affected the decision.
In May 2018, Richard Haynes, a prisoner at USP Lewisburg for less than a week, was found unresponsive in his cell and pronounced dead at a local hospital.
In February 2018, five prisoners at United States Penitentiary Lewisburg were separately indicted for weapons possession: Jose Capriata, Lenelle Gray, Jorge Lopez-Cruz, Michael Moore, and Ernie Joseph Sandoval.
In July 2017, a report by the U.S. Department of Justice's Office of the Inspector General singled out USP Lewisburg in its criticism of the Bureau's failure to track the time prisoners spend in "restrictive housing" and its mistreatment of mentally ill prisoners.
In June 2017, the DC Prisoner's Project of the Washington Lawyer's Committee for Civil Rights and Urban Affairs filed a class action lawsuit against Lewisburg Penitentiary, arguing that mentally ill prisoners were being given crossword and Sudoku puzzles, as well as coloring books, instead of counseling, treatment, and medications.
In 2016, an investigation by NPR and the Marshall Project found that USP Lewisburg had six times as many prisoner-on-prisoner assaults than all other federal prisons, making it one of the most dangerous prisons in America. Federal incident report data showed that guards used pepper spray or restraints in response to 228 in-cell fights. There have been more than 800 recorded prisoner-on-prisoner assaults, with four prisoners killed, since 2010.
In November 2015, a report issued by the District of Columbia Corrections Information Council (CIC), an independent oversight group, noted that excessive force complaints at USP Lewisburg far outweigh those at other federal prisons where DC prisoners are housed. While the DC prisoners alleged unprovoked attacks in areas without cameras, the BOP claimed that none of these incidents were reported or substantiated. The CIC made several recommendations for installing more cameras, reducing the time prisoners are kept in isolation, and increasing independent monitoring of staff.
In October 2015, Gerardo Arche-Felix, a prisoner at the Lewisburg federal penitentiary pleading with guards, staff, and his family to get himself moved, was strangled to death in his cell with a bedsheet. Arche's cellmate, Jose Hernandez-Vasquez, was charged with first-degree murder.
In August 2015, Jimmy Barker, an inmate at Lewisburg prison, died after a fight with his cellmate.
In May 2015, Javier Oswaldo Jovel-Aguilar, a prisoner at United States Penitentiary Lewisburg incarcerated due to an expired visa, was sentenced to 30 additional years in prison after beating his cellmate, Arnold Smith, to death. The assault occurred in June 2010.
In April 2015, Renell Wooten, a prisoner at Lewisburg USP, who was only four months from release and expressed worries about being killed before he could get out and see his family again, was found dead in his cell, hanged by a bedsheet.
In March 2015, a prisoner at USP Lewisburg was assaulted by his cellmate, requiring treatment at an outside medical facility.
In 2015, Randall Spade, a prison guard at USP Lewisburg, sued the Department of Justice for negligence upon learning that they released his personal information to prisoners, unredacted, through a standard public records request.
In February 2013, Fred Hagenbuch, a senior officer specialist at USP Lewisburg, pleaded guilty to illegally removing property from FCI Allenwood, such as electrical conduit, fencing, and fence posts.
In late 2012, Andrew Cervantes, a Nuestra Familia gang member imprisoned at USP Lewisburg, ordered the murder of an inmate at USP McCreary. The inmate was assaulted and stabbed in March 2013 but survived.
In December 2011, the Pennsylvania Institutional Law Project filed a lawsuit against USP Lewisburg on behalf of prisoner Sebastian Richardson, who suffered being tightly shackled for weeks at a time because he refused to accept violent cellmates.
In July 2010, Adam Martin, a prisoner at USP Lewisburg, was killed after getting into a fight with another prisoner.
Between 2008 and July 2011, there were 272 prisoner-on-prisoner assaults reported at United States Penitentiary Lewisburg.
In January 1998, Jesse Tharp, a guard at the Lewisburg federal prison, was indicted on charges of having indecent contact with a child under the age of eight and a child under the age of five on federal property outside the prison.
In 1997, Lewisburg federal penitentiary prisoners Abdul Salaam and Frank Joyner were stabbed to death in a fight that injured four other prisoners.
In October 1987, Robert F. Miller, a senior officer at USP Lewisburg, was shot and killed in an ambush as he and three other guards were transporting a prisoner to the hospital.
More Information About United States Penitentiary Lewisburg
For a comprehensive look at life in federal prison, pick up a copy of Christopher Zoukis' Federal Prison Handbook: The Definitive Guide to Surviving the Federal Bureau of Prisons. For more detailed information about USP Lewisburg, please buy a copy of the Directory of Federal Prisons: The Unofficial Guide to Bureau of Prisons Institutions by Christopher Zoukis.
Published May 17, 2018 by Christopher Zoukis, JD, MBA | Last Updated by Christopher Zoukis, JD, MBA on Aug 2, 2023 at 10:52 am