Federal Correctional Institution Sheridan is a medium-security federal prison in Sheridan, Oregon. It is also known as FCI Sheridan, Sheridan Correctional Center, and Sheridan Correctional Facility. FCI Sheridan Camp is adjacent to the main institution. Both federal prisons house male inmates.
FCI Sheridan Contact Information
Facility Address & Contact Information
Federal Correctional Institution Sheridan
27072 Ballston Road
Sheridan, OR 97378
Phone: 503-843-4442
Fax: 503-843-6645
Email: [email protected]
BOP Website: Bureau of Prisons Page
Wikipedia: Wikipedia Page
Inmate Correspondence Address
FCI Sheridan
Inmate Name and Registration Number
FCI Sheridan
Federal Correctional Institution
P.O. Box 5000
Sheridan, OR 97378
FCI Sheridan Prison Camp
Inmate Name and Registration Number
FCI Sheridan Camp
Satellite Prison Camp
P.O. Box 6000
Sheridan, OR 97378
How to Send Money
There are three main ways to send money to inmates at Sheridan Correctional Facility:
Western Union
Money Gram
National Lockbox in Des Moines, Iowa.
Western Union is the most popular option, which is widely available and fast. Money Gram is a good second choice, available at many retail locations. The National Lockbox is the least popular option, as it can only be used by sending a check or money order through the mail.
All three options have pros and cons, so choosing the one that best suits your needs is crucial. For any option, include the inmate's full name and inmate number on the form.
Please read our page on sending money to federal prisoners at Sheridan Correctional Center to learn more.
Federal Correctional Institution Sheridan Inmate Information
Inmate Gender
Adult Male Inmates
Prison Security Level
Facility Location
FCI Sheridan Correctional Center is located in northwestern Oregon, 90 minutes south of Portland, off Highway 18 on Ballston Road.
BOP Region
BOP Institution Code
SHE for FCI Sheridan
Medical Care Level
Level 2. See our page on Medical Care Levels and Procedures for more information.
Mental Health Care Level
Level 2.
Judicial District
Population Number
FCI Sheridan houses approximately 1,230 inmates. The camp houses around 340 inmates.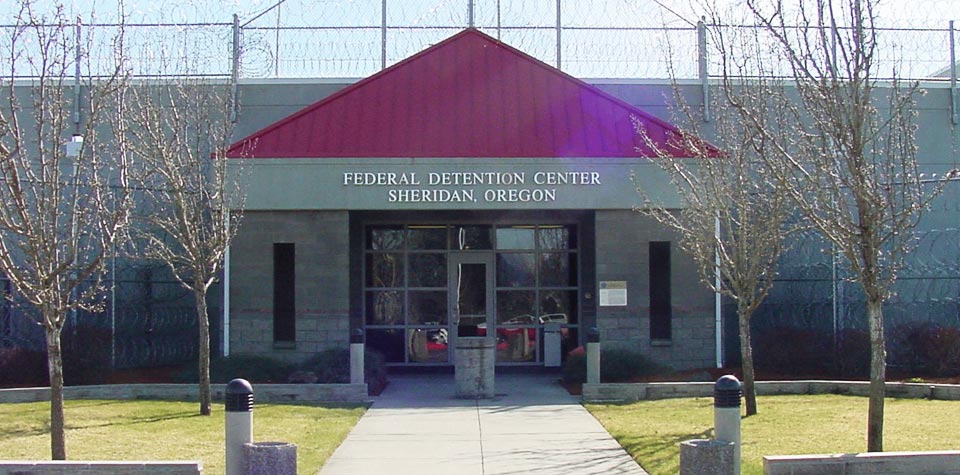 FCI Sheridan Prison Services Information
Background
Federal Correctional Institution Sheridan is a medium-security federal prison in Sheridan, Oregon. It opened in 1989. Federal Correctional Institution Sheridan Camp opened in 1989 adjacent to the main institution. Both federal prisons house male offenders.
FCI Sheridan also includes a detention center. This is the only federal prison in Oregon. The facility is designed in a style that resembles a college campus, with concrete, two-story structures modeled after dormitories.
Please note that Sheridan federal prison is not affiliated with the Illinois Department of Corrections or Lasalle County. Likewise, this prison is not a juvenile facility.
Notable inmates include:
Former FBI-Ten-Most-Wanted fugitive Leslie Rogge (serving a 65-year sentence for bank robbery)
Robert Gomez (serving 21 years for orchestrating the Miracle Cars scam)
Earth Liberation Front member Tre Arrow (served 78 months for arson)
Media reports indicate that one inmate has been murdered, five prisoners indicted for assaults, two guards stabbed, one inmate charged with money laundering, one guard indicted for smuggling drugs into the prison, and one guard indicted for kidnapping and raping, and choking a woman while off-duty. Additionally, news reports state that a large fight occurred at the camp in 2014.
In 2012, CNBC named FCI Sheridan one of the 12 best federal prisons in which to do time. In 2009, Forbes magazine named the facility one of America's ten cushiest federal prisons. And in 2005, The Kansas City Star named the institution one of the five best federal prisons for white-collar offenders.
Inmate Housing
Inmates live in two-person cells. There are four housing units. Inmates at the camp live in dormitories divided into four-person cubicles.
Health Services
Sheridan Correctional Facility offers various medical and dental services to inmates, including:
Sick Call
Dental Care
Physical Examinations
Emergency Care
Medications
Testing for Infectious Diseases
Inmates are assigned to a healthcare provider who treats them during their stay. Emergency medical care is available 24 hours a day.
Psychology Services
Sheridan Correctional Center psychologists diagnose, provide therapy services and evaluate prisoners. Regular group therapy classes include:
Anger Management
Stress Management
HIV/AIDS Awareness
Criminal Thinking
Residential Drug Abuse Program (RDAP)
FCI Sheridan and the camp offer the Residential Drug Abuse Program (RDAP), the Bureau's therapeutic community substance abuse treatment program. Drug Education programs, the Non-Residential Drug Abuse Program (NR-DAP), and Alcoholics Anonymous (AA) are also available.
FCI Sheridan Educational, Library, and Recreation Offerings
Education Services
FCI Sheridan Correctional Facility provides inmates with GED and English-as-a-Second Language (ESL) programs. Parenting and Adult Continuing Education (ACE) programs are also available.
High school diplomas and post-secondary degrees are available through paid correspondence programs. At FDC Sheridan, inmates can complete educational packets on anger management, math, government, poetry, and others.
You can learn more about prison education programs here.
Advanced Occupational Education
Sheridan Correctional Center and the camp offer advanced occupational education programs in:
Basic Woodworking
Building Trades
Desktop Publisher
Excel
PowerPoint
Microsoft Publisher
Microsoft Windows
Word
Word 2
QuickBooks
The camp also offers Computer-Aided Design and Landscape Design.
Vocational Training
FCI Sheridan and the camp offer vocational training in the following:
Google Sketchup
Excel
Microsoft PowerPoint and Publisher
Microsoft Word
Personal Fitness Trainer
QuickBooks
The camp also offers vocational training in Basic Horticulture and Pesticide Applications.
Apprenticeship
Sheridan Oregon Prison offers apprenticeships in:
Baking
Barber
Building Maintenance
Cabinet Worker
Call Center Clerk
Cook
Landscape Management Technician
Office Management Clerk
Plumber
Sanitation Technician
Solar Technician
Wood Turning Lathe Operator
The Sheridan Oregon prison's camp offers apprenticeships in:
Career Clerk
Dental Assistant
Farmworker
Landscape Technician
Both facilities offer Electrical, HVAC, Personal Fitness Trainer, and Teacher Aide apprenticeships.
Library Services
A leisure and law library is available for Sheridan Correctional Facility inmate use. The leisure library offers fiction and nonfiction books, magazines, and newspapers.
The law library contains a variety of legal reference materials, including:
United States Code Annotated
Federal Reporter
Supreme Court Reporter
Federal Bureau of Prisons Program Statements
Institution Supplements
Indexes
Other Legal Materials
Most of these are available in the TRULINCS Electronic Law Library. The law library also houses typewriters and a copy machine.
UNICOR
The FCI Sheridan UNICOR facility produces electronics and plastics. The camp does not have a UNICOR facility.
Commissary
The Commissary Card is also an identification card. If an inmate leaves the housing unit, they must have the commissary card in their possession.
The monthly spending limit is $360, further restricted to $180 every two weeks. Inmates can purchase a wide variety of items from the prison commissary. Inmates can only shop once a week in the commissary on their designated shopping day.
Recreation Services
A wide variety of recreational activities are offered at FCI Sheridan. Sports and games are offered, including:
Softball
Flag Football
Soccer
Bocce Ball
Horseshoes
Volleyball
Handball
Racquetball
Basketball
Fitness equipment (e.g., ellipticals, treadmills, and stationary bikes), a hobby shop, and a central Recreation Area with ping pong tables, exercise equipment, and a band room are also available.
Games (e.g., dominoes) are on the unit in the central prison, and there is also an Inmate Photo Program. There is also a track. Inmates at FDC Sheridan have access to a small outdoor area for one hour each day.
Visitation Information for FCI Sheridan
Families and friends can visit inmates in federal prisons. Visiting hours are between 8:30 a.m. and 3:00 p.m. on Sunday, Friday, and Saturday. On federal holidays visitation is held between 8:30 a.m. and 3:00 p.m. See our page on prisoner visitation rules for more information.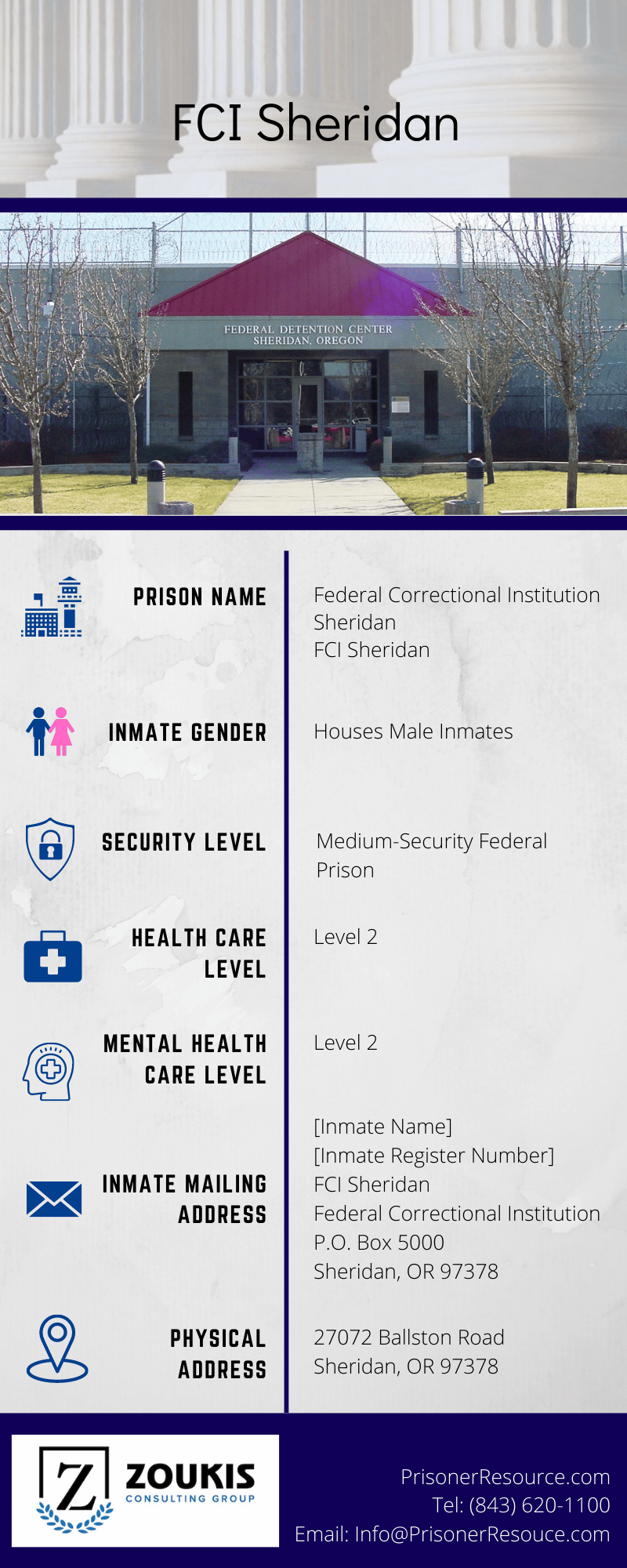 FCI Sheridan Prison Culture Information
Prison Politics at Federal Correctional Institution Sheridan
This is a somewhat political yard.
Level of Violence
There is minimal violence at this prison. According to one respondent, "You have tough guys everywhere."
Vulnerable Populations
While some respondents stated that sex offenders and informants couldn't stay, others said that both groups and LGBT inmates could stay. According to one inmate, "In the FDC, sex offenders, informants, LGBT inmates, and check-ins can walk in the J1 dorm." One respondent stated that in both the FCI and FDC, sex offenders sometimes pay the racial group's shot callers to stay.
Good at FCI Sheridan Federal Prison
"Good college campus atmosphere, nicely appointed cells, and trees." "Nice yard." "Skylights in the day room."
Bad at FCI Sheridan Oregon Prison
"Nothing is good about any prison. Life stops for most locked up."
Other Inmate Comments
"I would endorse it."
FCI Sheridan in the News
In June 2018, District Judge Michael Simon approved an emergency temporary restraining order against Immigration and Customs Enforcement and the Bureau of Prisons after more than 100 immigration detainees at Federal Correctional Institution Sheridan were refused access to legal counsel in violation of their constitutional due process rights.
In July 2017, Shannon Jones pleaded guilty to defrauding 43 people out of $1.4 million and reported to FCI Sheridan to begin his two-and-a-half-year sentence.
Also, in 2017, Emanuel Astacio-Arriagathe, a known Puerto Rican Netas gang member, was sentenced to 26 years and eight months in prison for the murder of Hector Orlando Salgado- Valderrama. In 2014, while a prisoner at Sheridan Correctional Center, Astacio-Arriagathe had beat Salgado- Valderrama to death with a mop handle. Astacio-Arriagathe kicked Salgado-Valderrama in the head when the mop handle broke while wearing his steel-toed work boots.
In June 2016, Victor Alas-Felix, a prisoner at Sheridan Oregon Prison who participated in a gang-related assault in May 2015, was sentenced to 40 months.
More Sheridan Federal Prison News
In May 2015, four prisoners at FCI Sheridan — Jose Carlos Acosta Jr., Omar Mendoza, Javier Rodriguez Tijerina Jr., and Victor Alas-Felix — punched and kicked an unnamed prisoner unconscious, then attacked him again after he regained consciousness and tried to leave.
In October 2014, Sajoh C. Yates, a prisoner at Sheridan Federal Prison diagnosed with paranoid schizophrenia, attacked and slashed two guards' faces with a razor and was subsequently sent back to Federal Medical Center Springfield.
In January 2011, Harold James Nicholson, serving a 283-month sentence at FCI Sheridan for espionage, was sentenced to an additional eight years for conspiring to launder money while in prison.
In March 2008, James Rolan, a guard at Sheridan Correctional Facility, was sentenced to two years in prison for possessing heroin with intent to distribute it by smuggling it into the prison.
In April 2005, Robert Stamper, a guard at FCI Sheridan, was sentenced to 61 years in state prison after being convicted of kidnapping an 18-year-old woman at gunpoint, raping her, choking her unconscious, and leaving her for dead.
FCI Sheridan in the News
In September 2014, a fight broke out among prisoners at FCI Sheridan Camp.
More Information About Federal Correctional Institution Sheridan
For a comprehensive look at life in federal prison, pick up a copy of Christopher Zoukis' Federal Prison Handbook: The Definitive Guide to Surviving the Federal Bureau of Prisons. For more detailed information about FCI Sheridan, please buy a copy of the Directory of Federal Prisons: The Unofficial Guide to Bureau of Prisons Institutions by Christopher Zoukis.
Published Jun 3, 2018 by Christopher Zoukis, JD, MBA | Last Updated by Christopher Zoukis, JD, MBA on Aug 6, 2023 at 5:24 pm