Federal Correctional Institution Hazelton is a medium-security federal prison located in Bruceton Mills, West Virginia. It is also known as FCI Hazelton and Hazelton WV prison. The facility houses male inmates. Secure Female Facility Hazelton is next to the central institution and houses medium-security female inmates.
If you or a loved one are currently incarcerated at FCI Hazelton, the Zoukis Consulting Group can help. Our team of federal prison experts has extensive experience assisting clients with in-prison matters and securing an early release from prison.
We offer initial consultations to all potential clients. Contact us today to learn more about how we can help you or your loved one. We look forward to speaking with you soon.
FCI Hazelton Federal Prison Contact Information
Facility Address & Contact Information
Federal Correctional Institution Hazelton
1640 Sky View Drive
Bruceton Mills, WV 26525
Phone: 304-379-1500
Fax: 304-379-1531
Email: [email protected]
BOP Website: Bureau of Prisons Page
Wikipedia: Wikipedia Page
Inmate Correspondence Address
Family and friends can send mail to inmates at the FCI Hazelton federal prison. All inmate mail must be addressed as follows:
FCI Hazelton
Inmate Name and Registration Number
FCI Hazelton
Federal Correctional Institution
P.O. Box 5000
Bruceton Mills, WV 26525
SFF Hazelton
Inmate Name and Registration Number
SFF Hazelton
Secure Female Facility
P.O. Box 3000
Bruceton Mills, WV 26525
How to Send Money
Funds cannot be sent directly to federal inmates. See our page on sending money to federal prisoners. This page discusses how to send money to inmates, including through the National Lockbox in Des Moine, Iowa.
Federal Correctional Institution Hazelton Inmate Information
Inmate Gender
FCI: Male Inmates
SFF: Female Inmates
Prison Security Level
SFF: Medium-Security Federal Prison
Facility Location
FCI Hazelton is in the mountains of Preston County, West Virginia, in the community of Bruceton Mills, approximately 35 minutes from Morgantown, 45 minutes from Uniontown, PA, and 45 minutes from Cumberland, MD.
BOP Region
BOP Institution Code
HAZ for USP Hazelton, HAX for Hazelton Federal Correctional Complex
Medical Care Level
Level 2. See our page on Medical Care Levels and Procedures for more information.
Mental Health Care Level
Level 2.
Judicial District
Northern District of West Virginia
Population Number
FCI Hazelton houses approximately 1,550 inmates. The secure female facility houses around 450 inmates.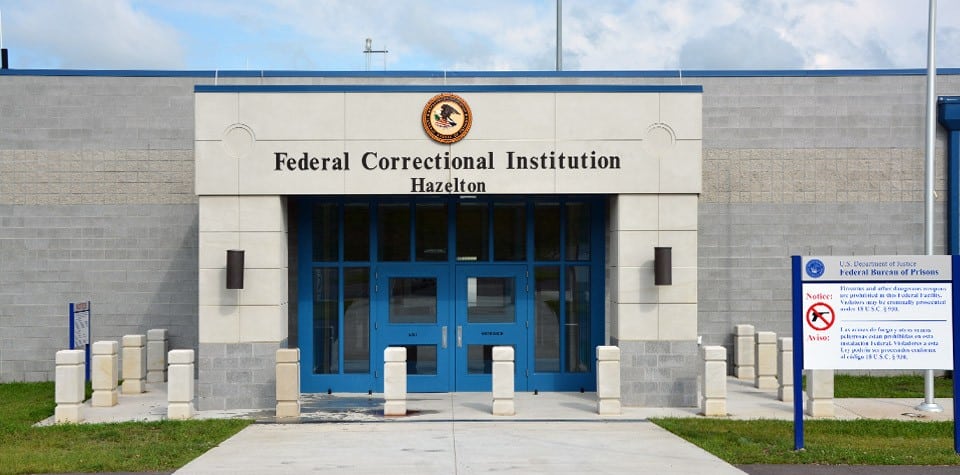 FCI Hazelton Prison Services Information
Background
Federal Correctional Institution Hazelton is a medium-security federal prison in Bruceton Mills, West Virginia. It is part of the Hazelton Federal Correctional Complex and houses male inmates. The complex also houses a separate Secure Female Facility for medium-security female inmates.
Media reports indicate that the local guards' union has picketed at least once to protest staff shortages and other concerns.
Other FCC Hazelton institutions are the minimum-security SPC Hazelton and the high-security USP Hazelton, where Whitey Bulger was killed.
Inmate Housing
Inmates live in two- and three-person cells. In the housing units, there are six TVs, a typing room, and a law library room.
Inmates in the Special Housing Unit live in one- or two-person cells.
Health Services
Health services at FCI Hazelton and the Secure Female Facility include the following medical services:
Episodic visits for new or recurring medical or dental symptoms through a sick call system
Chronic care clinics
Routine dental care
Medical and dental emergency care for injuries and sudden illness
Age-appropriate preventive care to promote optimal health and functional status
Restorative care enables achievable functional status
Long-term care
End-of-life care
Dental and regular sick calls are held at the Hazelton WV prison several times weekly. Pill lines and insulin lines coincide with meals.
Psychology Services
Inmates at FCI Hazelton receive these mental health services:
Mental Health Screening
Assessment
Treatment
Individual and Group Counseling
Psycho-Educational Classes (e.g., anger management, stress reduction, etc.)
Self-Help and Supportive Services
Referral to Health Services for Medical Treatment of Mental Illness
The female facility also offers the Resolve Program, a non-residential program for female inmates with physical and sexual abuse histories.
Residential Drug Abuse Program (RDAP)
A Residential Drug Abuse Program (RDAP) is available in the FCI Hazelton Secure Female Facility. Alcoholics Anonymous (AA), Narcotics Anonymous (NA), the Non-Residential Drug Abuse Treatment Program (NR-DAP), and the Drug Education Class are available at both facilities.
FCI Hazelton WV Prison Educational, Library, and Recreation Offerings
Education Services
FCI Hazelton and the Secure Female Facility provide GED and English as a Second Language (ESL) programs.
Incentive awards are provided to recognize inmates making satisfactory progress and completing the literacy (i.e., GED and ESL) program. Inmates may also receive incentives for progressing to various levels in the GED or ESL programs. Graduation ceremonies recognize GED, ESL, and Apprenticeship completions.
Federal Correctional Institution Hazelton and the female facility offer parenting, Adult Continuing Education (ACE), career counseling/Pre-Release Program (RPP) courses, and Microsoft Office 2010. High school diplomas and post-secondary degrees are available through paid correspondence programs.
You can learn more about prison education programs here.
Advanced Occupational Education
Neither Hazelton WV federal prison offers any advanced occupational education programs.
Vocational Training
No vocational training is available at FCI Hazelton or the female facility aside from the education services and apprenticeship programs.
Apprenticeship
The FCI Hazelton Secure Female Facility offers apprenticeships in Electrician, HVAC, Maintenance Repairer Industrial, Plumber, and Welder.
Library Services
The Hazelton federal prison law library is located in the Education Department and contains various legal reference materials. These are available on the ten law library computers to prepare legal papers. Electronic typewriters and a copy machine are also available.
The Education Department maintains a leisure library available to the general population. Reference books, such as encyclopedias, dictionaries, medical encyclopedias, college listings and synopses, and recent volumes of Books in Print are available. These reference books are only available for use within the Resource Library.
Magazines, fiction and nonfiction books, and newspapers are available. Inmates may also participate in an interlibrary loan program with a community library.
UNICOR
FCI Hazelton does not house a UNICOR facility.
Commissary
Inmates can spend up to $360 each month on commissary items. Copy cards, postage stamps, and certain over-the-counter medications are spending limit exempt.
Shopping is permitted once a week on a designated day for each inmate. Schedules are posted in the housing units. Shoes, clothing, electronics, food, drinks, and more can be purchased in the commissary.
Recreation Services
Both Hazelton WV prison facilities offer numerous physical fitness and leisure programs. These inmate recreation offerings include:
Organized and Informal Games
Sports
Physical Fitness
Table Games
Hobby Crafts
Music Programs
Intramural Activities
Social and Cultural Organizations
Movies
Inmate art activities include:
Oils
Pastels
Crayons
Pencils
Inks
Charcoal
Hobby craft activities include:
Ceramics
Leatherwork
Models
Clay
Mosaics
Crochet
Knitting
Sculptures
Woodworking
Lapidary
Wellness programs are also available. Softball, soccer, football, handball, and basketball are popular league sports.
Visitation Information for FCI Hazelton Prison
Visiting hours are from 8:00 a.m. to 3:00 p.m., Sundays and Saturdays. On federal holidays visitation is held between 8:00 a.m. and 3:00 p.m. See our page on prisoner visitation rules for more information.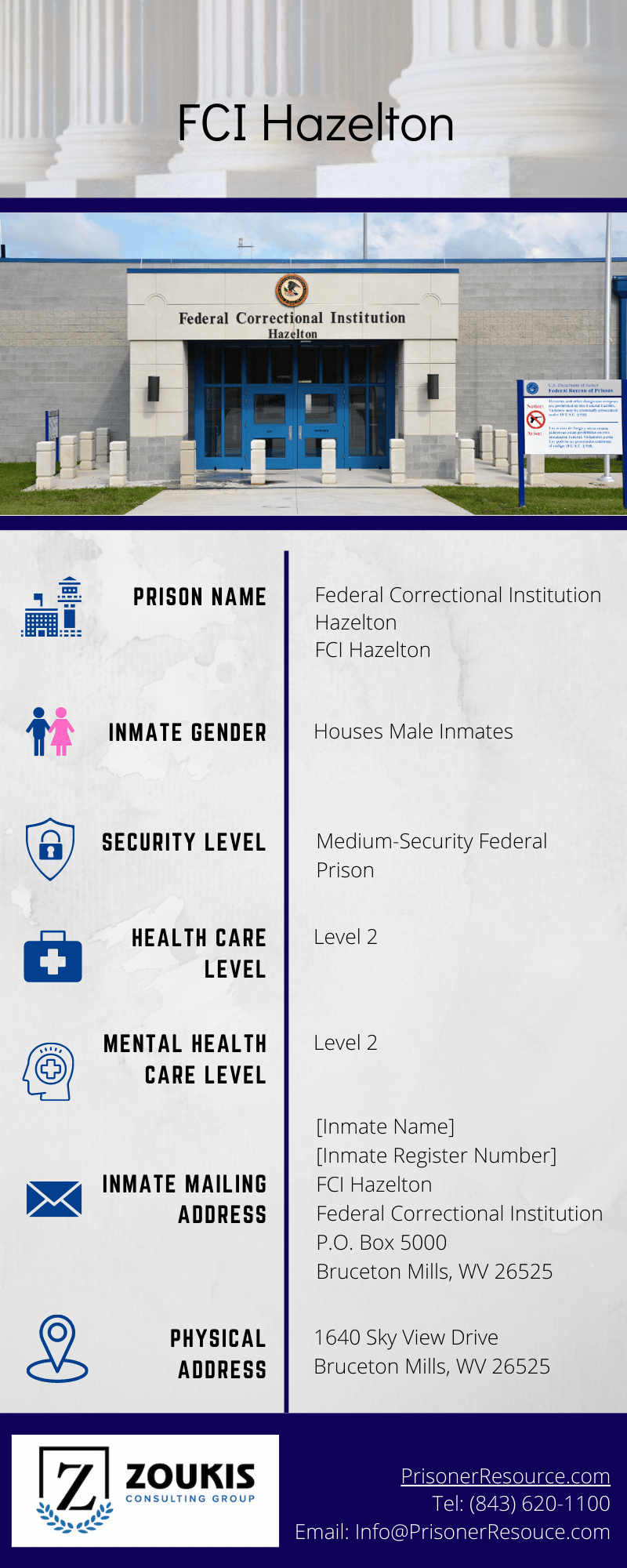 FCI Hazelton Prison Culture Information
Prison Politics at Federal Correctional Institution Hazelton
Hazelton federal prison is a moderately political yard where most inmates belong to cars and check paperwork.
Level of Violence
The level of violence is high in the Hazelton WV prison. According to one respondent, "The officers here don't attempt to locate shanks, drugs, or other contraband."
The respondent continued, "The biggest group subjected to violence here are the 'exposed' sex offenders who must sit at two specific tables, with only 12 seats for approximately 210 exposed sex offenders." Many sex offenders have been attacked. There is also a problem with gang violence.
Vulnerable Populations
Sex offenders, informants, and LGBT inmates are present, though many are driven off through violence. Generally speaking, this is not a very forgiving yard for such inmates, even if they can stay.
Good at FCI Hazelton Prison
"I honestly would have a hard time coming up with many good things about Hazelton."
Bad at FCI Hazelton Federal Prison
"The list of bad is endless here. They allow sex offenders to be assaulted and battered. They lock us down constantly without any real apparent reason. If you begin to file grievances, the staff immediately start retaliating against you relentlessly."
"If you check in because you feel you are in danger, the staff will throw you in a cell with someone they know you will have issues with and provoke a fight between you." "They have a track record of locking us down for every holiday. Each time they claim that they are short on staff."
Other Inmate Comments
"This is seriously the worst prison I have seen in the BOP. Of course, it could always be worse."
FCI Hazelton in the News
In May 2018, Terence O'Brien, who was warden for six years at Federal Correctional Institution Hazelton before his retirement in 2016, was appointed to chair the West Virginia Parole Board.
In August 2015, the local chapter of the American Federation of Government Employees, which represents FCI Hazelton guards, picketed due to staff shortages and other employee concerns.
More Information About Federal Correctional Institution Hazelton
For a comprehensive look at life in federal prison, pick up a copy of Christopher Zoukis' Federal Prison Handbook: The Definitive Guide to Surviving the Federal Bureau of Prisons. For more detailed information about FCI Hazelton, please buy a copy of the Directory of Federal Prisons: The Unofficial Guide to Bureau of Prisons Institutions by Christopher Zoukis.
Your FCI Hazelton Federal Prison Experts
The Zoukis Consulting Group can assist you or a loved one detained at FCI Hazelton. Our team of federal prison experts has years of expertise in helping clients with in-prison concerns and facilitating early release from federal prison.
During your initial consultation, we will review your case and discuss your options for moving forward. Contact us today to get started!
Published Apr 24, 2018 by Christopher Zoukis, JD, MBA | Last Updated by Christopher Zoukis, JD, MBA on Jul 23, 2023 at 2:16 pm