Federal Detention Center Honolulu is an administrative-security federal prison located in Honolulu, Hawaii. It is also known as FDC Honolulu, Hawaii Correctional Facility, and the Honolulu jail. The facility houses male and female inmates.
FDC Honolulu Contact Information
Facility Address & Contact Information
Federal Detention Center Honolulu
351 Elliott Street
Honolulu, HI 96819
Phone: 808-838-4200
Fax: 808-838-4507
Email: [email protected]
BOP Website: Bureau of Prisons Page
Wikipedia: Wikipedia Page
Inmate Correspondence Address
FDC Honolulu
Inmate Name and Registration Number
FDC Honolulu
Federal Detention Center
P.O. Box 30080
Honolulu, HI 96820
How to Send Money
Funds cannot be sent directly to inmates. See our page on sending money to federal prisoners.
Federal Detention Center Honolulu Inmate Information
Inmate Gender
Male and Female Inmates
Prison Security Level
Administrative Security Federal Prison
Facility Location
FDC Honolulu is located adjacent to Honolulu International Airport on the Hawaiian Airlines side.
BOP Region
BOP Institution Code
HON for FDC Honolulu
Medical Care Level
Level 2. See our page on Medical Care Levels and Procedures for more information.
Mental Health Care Level
Level 2.
Judicial District
Population Number
FDC Honolulu houses approximately 310 inmates.
FDC Honolulu Prison Services Information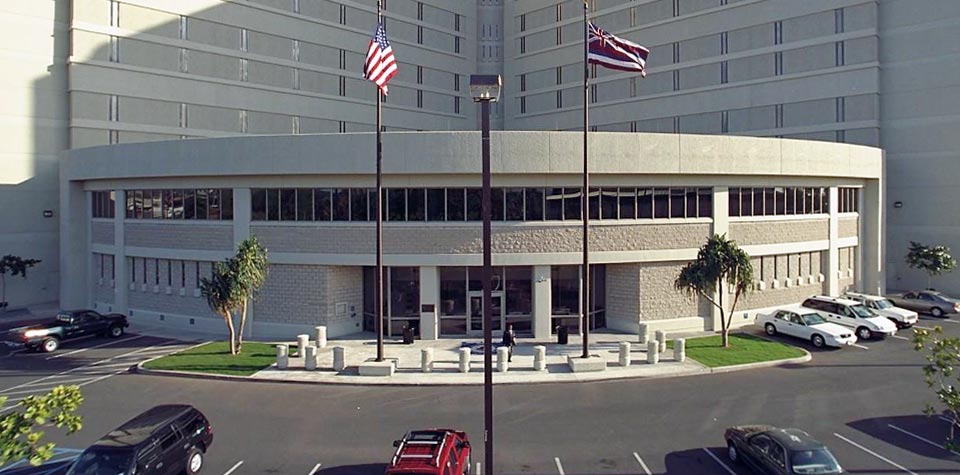 Background
Federal Detention Center Honolulu is an administrative-security federal prison in Honolulu, Hawaii, which houses both male and female inmates. It was opened in 2001.
FDC Honolulu houses pre-trial and pre-sentence detainees, as well as holdover inmates within its 12-story structure.
Notable inmates include stars of the reality TV show Dog: The Bounty Hunter Duane "Dog" Chapman, Leland Chapman, and Tim Chapman, all of whom were arrested on September 14, 2006, for illegal bounty hunting. All were released the following day.
Media reports indicate that two guards have been indicted for sexually assaulting three female detainees, at least one guard has been indicted for smuggling drugs into the prison, and four detainees were charged with smuggling drugs into the institution. Additionally, prisoners have participated in at least one hunger strike to protest conditions of confinement.
Inmate Housing
Inmates are housed in two-person cells.
Health Services
Health services at FDC Honolulu include sick call, emergency care, medications, chronic care management, routine dental care, medical and dental emergency care for injuries and sudden illness, age-appropriate preventive care to promote optimal health and functional status, restorative care to promote achievable functional status, long-term care, and end-of-life care. Emergency medical services are available 24 hours a day.
Psychology Services
FDC Honolulu's psychology services include screening, assessment, and treatment of mental health issues, individual and group counseling, psycho-educational classes, self-help and supportive services, and referral to Health Services for medical treatment of a mental illness. Inmates can request program placement by submitting an Inmate Request to Staff form.
Residential Drug Abuse Program (RDAP)
FDC Honolulu does not offer the Residential Drug Abuse Program (RDAP), but referrals can be made to institutions that do provide RDAP. A Drug Abuse Education Course and the Non-Residential Drug Abuse Treatment Program (NR-DAP) are available.
FDC Honolulu Educational, Library, and Recreation Offerings
Education Services
FDC Honolulu provides literacy, GED, and English-as-a-Second Language (ESL) programs. Incentive awards are provided to recognize inmates making satisfactory progress and successfully completing the literacy (i.e., GED and ESL) program. Inmates may also receive incentives for progressing to various levels in the GED or ESL programs. Graduation ceremonies recognize GED, ESL, and Occupational Education completions. High school diplomas and post-secondary degrees are available through paid correspondence programs.
Advanced Occupational Education
FDC Honolulu does not offer any advanced occupational education programs.
Vocational Training
FDC Honolulu does not offer any vocational training programs.
Apprenticeship
FDC Honolulu does not offer any apprenticeship programs.
Library Services
The leisure library offers inmates a variety of reading materials, including periodicals, newspapers, fiction, nonfiction, and reference books. There is also an interlibrary loan program with local, state, and college libraries and available bookmobile services. Inmates are also afforded access to legal materials and an opportunity to prepare legal documents with the assistance of the TRULINCS Electronic Law Library.
UNICOR
FDC Honolulu does not house a UNICOR facility.
Commissary
The monthly spending limit is $360.00. Inmates are allowed to shop once a week on their designated shopping day. Inmates may use funds in their account to purchase items at the institution commissary, place funds on their inmate phone account, purchase TRU-Units for their TRULINCS account, or send funds outside of the institution using Form BP-199. Inmates are allowed to purchase a wide variety of products at the commissary.
Recreation Services
FDC Honolulu offers a variety of recreation, leisure, wellness, and social programs. Leisure activities include organized and informal games, sports, physical fitness, table games, hobby crafts, social and cultural organizations, and movies. Art activities include painting and sketching rendered in any of the usual media (e.g., oils, pastels, crayons, pencils, inks, and charcoal).
Visitation Information for FDC Honolulu
On Monday, Tuesday, and Friday visitation is held between 7:30 a.m. and 1:30 p.m. as well as 2:15 and 8:15 p.m. On Sunday, Saturday, and federal holidays visitation is held between 6:15 and 8:15 a.m., 8:45 and 10:45 a.m., and 2:45 and 4:45 p.m., 5:15 and 7:15 p.m., and 7:45 and 9:45 p.m. See our page on prisoner visitation rules for more information.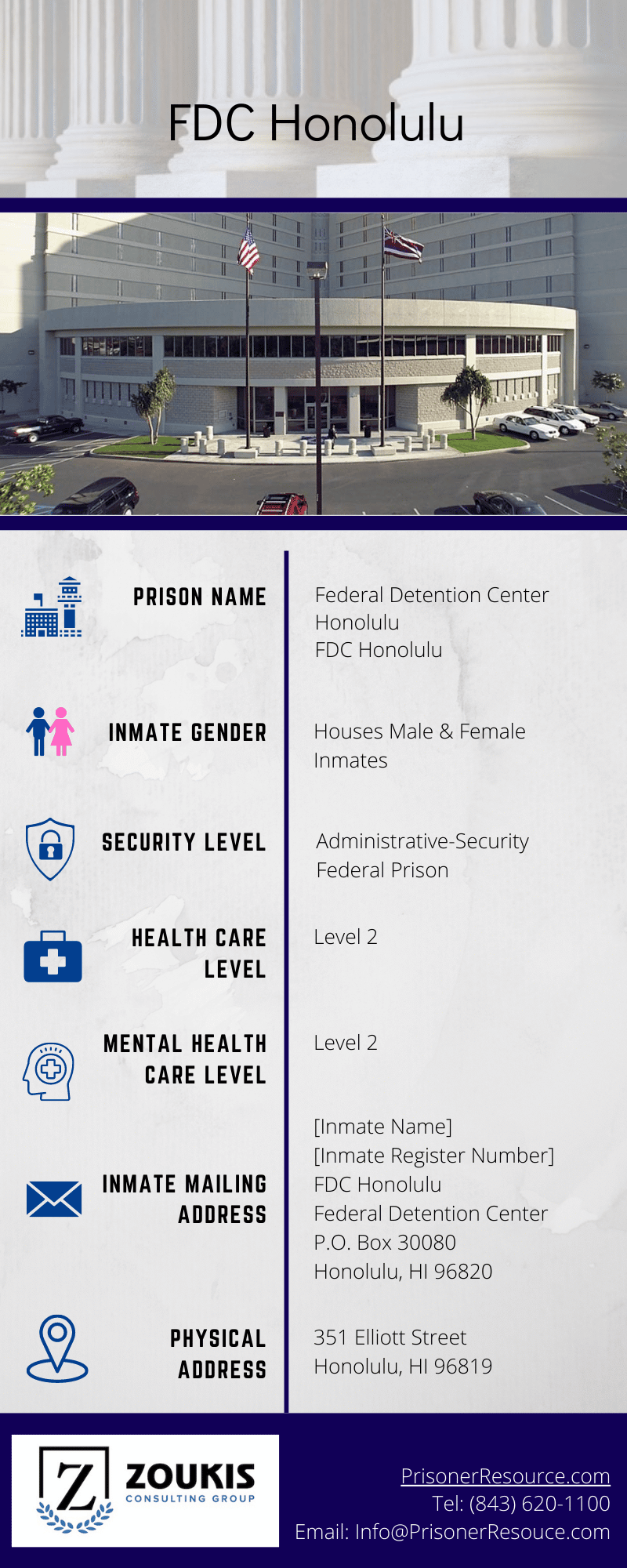 FDC Honolulu in the News
In June 2017, Diego Contreras, a guard at Federal Detention Center Honolulu, was sentenced to a year in prison for having inappropriate relationships with two female inmates and lying about it to federal investigators.
In April 2014, an estimated eight prisoners in the segregation unit at FDC Honolulu began a hunger strike to protest conditions that included maggots in the food, loss of family visits, and lack of clean underwear.
In January 2014, Mark Damas, a guard at Hawaii's Halawa Correctional Facility, was arrested for intent to distribute more than five grams of methamphetamine and sent to FDC Honolulu to await trial.
In 2013, a female prisoner at the Women's Community Correctional Center who accused guard Irwin Ah-Hoy of sexual assault was moved to FDC Honolulu to protect her from potential retaliation, as Ah-Hoy retained his employment after being indicted for the sex crime.
In 2005, Akoni Sandoval, a guard at FDC Honolulu, along with four prisoners and two of their relatives, were charged with conspiring to smuggle marijuana and methamphetamines into the facility.
More Information About Federal Detention Center Honolulu
For a comprehensive look at life in federal prison, pick up a copy of Christopher Zoukis' Federal Prison Handbook: The Definitive Guide to Surviving the Federal Bureau of Prisons. For more detailed information about FDC Honolulu, please buy a copy of the Directory of Federal Prisons: The Unofficial Guide to Bureau of Prisons Institutions by Christopher Zoukis.
Published Jun 3, 2018 by Christopher Zoukis, JD, MBA | Last Updated by Christopher Zoukis, JD, MBA on May 12, 2023 at 11:20 am