Federal Correctional Institution Sandstone is a low-security federal prison located in Sandstone, Minnesota. It is also known as FCI Sandstone and Sandstone MN prison. The facility houses male inmates.
FCI Sandstone Contact Information
Facility Address & Contact Information
Federal Correctional Institution Sandstone
2300 County Road 29
Sandstone, MN 55072
Phone: 320-245-2262
Fax: 320-245-0385
Email: [email protected]
BOP Website: Bureau of Prisons Page
Wikipedia: Wikipedia Page
Inmate Correspondence Address
FCI Sandstone
Inmate Name and Registration Number
FCI Sandstone
Federal Correctional Institution
P.O. Box 1000
Sandstone, MN 55072
How to Send Money to an Inmate
Sending money to a federal inmate is not as simple as writing a check or sending a money order. Inmates at the Sandstone, MN prison cannot receive funds directly, so family and friends must use one of the approved methods listed below.
Western Union: To send money via Western Union, you need the inmate's name, registration number, and facility address. You also need to provide your name, address, and government-issued ID.
Money Gram: Money Gram works similarly to Western Union, but you will also need a different receiver code and the inmate's name, registration number, and address of the facility where they are incarcerated.
National Lockbox: The National Lockbox, located in Des Moines, Iowa, only accepts money orders. To send a money order, you must include the inmate's name and registration number on the memo line. You also need to include your return address so that the lockbox can send any unclaimed funds back to you.
You can find more information about sending money to federal inmates at Sandstone federal prison here.
Federal Correctional Institution Sandstone Inmate Information
Inmate Gender
Male Inmates
Prison Security Level
Facility Location
It is located 100 miles northeast of Minneapolis/St. Paul, 70 miles southwest of Duluth, off I-35.
BOP Region
BOP Institution Code
SST for FCI Sandstone
Medical Care Level
Level 1. See our page on Medical Care Levels and Procedures for more information.
Mental Health Care Level
Level 1.
Judicial District
Population Number
FCI Sandstone houses approximately 960 inmates.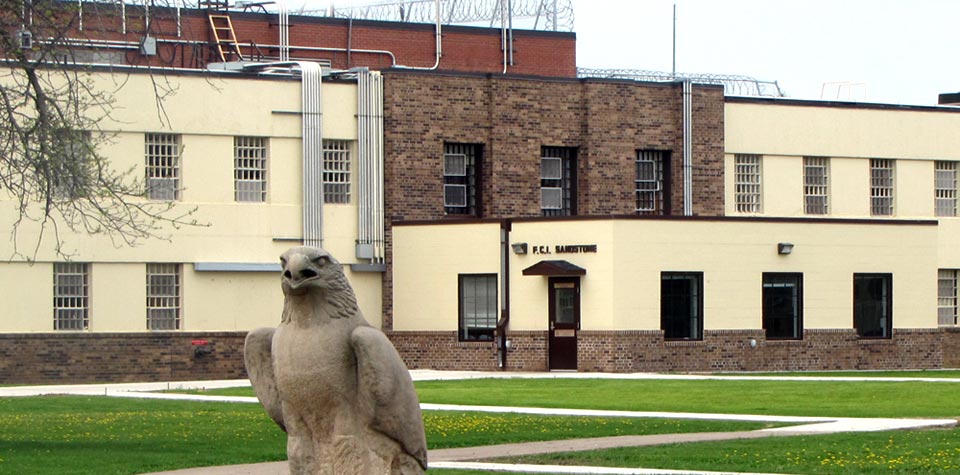 FCI Sandstone Prison Services Information
Background
Federal Correctional Institution Sandstone is a low-security federal prison in Sandstone, Minnesota. It initially opened in 1939, closed in 1949, but reopened in 1959. It currently houses male offenders.
Sandstone MN prison is a Federal Bureau of Prisons (BOP) facility, a United States Department of Justice agency.
Notable inmates include:
Former NHL player Mike Danton (convicted of conspiracy to commit murder):
Serial bank robber David Brankle (serving a 21-year sentence)
Disbarred attorney Marc Dreier (serving 20 years for securities fraud, wire fraud, and money laundering)
In 2017, Insider Monkey named FCI Sandstone one of the ten easiest federal prisons to do time. In 2012, CNBC named the institution one of the 12 best federal prisons in which to do time.
Inmate Housing
Inmates live in dormitories divided into two- and four-person cubicles.
Health Services
Health services at FCI Sandstone include:
Examinations for new or recurring medical or dental symptoms
Chronic care management for chronic and infectious diseases
Routine dental care
Medical and dental emergency care for injuries and sudden illness
Age-appropriate preventive care to promote optimal health and functional status
Prescription glasses
Medications
A sick call is held at 6:15 a.m. The pill line is conducted at 6:00 a.m., noon, and 4:45 p.m. Insulin line is before breakfast and dinner.
Psychology Services
Psychology services at FCI Sandstone include:
Screening, Assessment, and Treatment of Mental Health Problems
Individual and Group Counseling
Psycho-Educational Classes
Self-Help and Supportive Services
Health Services Unit Referrals for Medical Treatment of Mental Illness
Psychology Department offerings include Values Training and other voluntary groups. Additionally, the following services are also available to Sandstone, MN inmates:
Consultations
Crisis Intervention Counseling Sessions
Relaxation Training Sessions
Self-Study
Meditative Techniques
Residential Drug Abuse Program (RDAP)
FCI Sandstone houses the Residential Drug Abuse Program (RDAP). Other drug abuse programs, a Drug Abuse Education course, a Non-Residential Drug Abuse Program (NR-DAP), and groups for Alcoholics Anonymous (AA) and Narcotics Anonymous (NA) are also available.
FCI Sandstone Educational, Library, and Recreation Offerings
Education Services
FCI Sandstone's Education Department provides literacy, GED, and English-as-a-Second Language (ESL) programs.
Incentive awards recognize inmates making progress and completing the literacy program (i.e., GED and ESL). Inmates may also receive incentives for progressing to various levels in the GED or ESL programs. Inmates graduating from the GED, ESL, and Occupational Education are honored at graduation ceremonies.
Adult Continuing Education (ACE) courses and a parenting program are also available. High school diplomas and post-secondary degrees are available through paid correspondence programs.
Advanced Occupational Education
The Sandstone MN prison does not offer any advanced occupational education programs.
Vocational Training
FCI Sandstone offers vocational training in Auto and Building Trades.
Apprenticeship
Sandstone Federal Correctional Institution offers apprenticeships in Culinary and Welding.
Library Services
The leisure library offers inmates a variety of reading materials, including:
Periodicals
Newspapers
Fiction, Nonfiction, and Reference Books
Inmates in college classes have access to computer word processors, while everyone else has access to NEO word processors. There is also a DVD movie program.
Inmates have access to legal materials and an opportunity to prepare legal documents. The TRULINCS Electronic Law Library provides inmates access to case law, prison policy, federal rules of court, and other information of a legal nature. A copying machine and typewriters are available for inmate use.
UNICOR
The FCI Sandstone UNICOR facility produces clothing and textiles.
Commissary
Inmates can spend up to $360.00 per month in the prison commissary. A bi-weekly spending limitation of $180 is enforced at FCI Sandstone.
A wide variety of prison commissary items are available for inmate purchase, including radios, MP3 players, food, drinks, ice cream, clothing, and shoes.
Commissary is open Monday through Thursday. Inmates can shop between 6:00 and 7:30 a.m. and 10:30 a.m. to 12:00 p.m. on their designated shopping day.
Recreation Services
Organized and informal leisure activities at FCI Sandstone include:
Games
Sports
Physical Fitness
Table Games
Hobby Crafts
Music Programs
Intramural Activities
Social and Cultural Organizations
Movies
Art activities include paintings and sketches rendered in pastels, crayons, pencils, inks, and charcoal. Hobbycraft activities include leatherwork, airbrushing, clay, mosaics, crochet, knitting, etc.
Wellness programs at the Sandstone MN prison include:
Screening
Assessments
Goal Setting
Healthy Living
Diabetic Education
Fitness and Nutrition Plans
Counseling
Inside, inmates have access to many recreational activities, such as:
Basketball
Street Hockey
Card Tables
TVs
Darts
Pool Tables
Handball
Band Room
Outside, Sandstone federal prison inmates have access to:
Weights
Basketball
Handball
Soccer
Softball
Pickleball
Volleyball
Horseshoes
Bocce Ball
Walking and Running Track
Visitation Information for FCI Sandstone
On Sunday, Monday, and Saturday, visiting hours are from 8:30 a.m. to 3:30 p.m. On federal holidays visitation is held between 8:30 a.m. and 3:30 p.m. See our page on prisoner visitation rules for more information.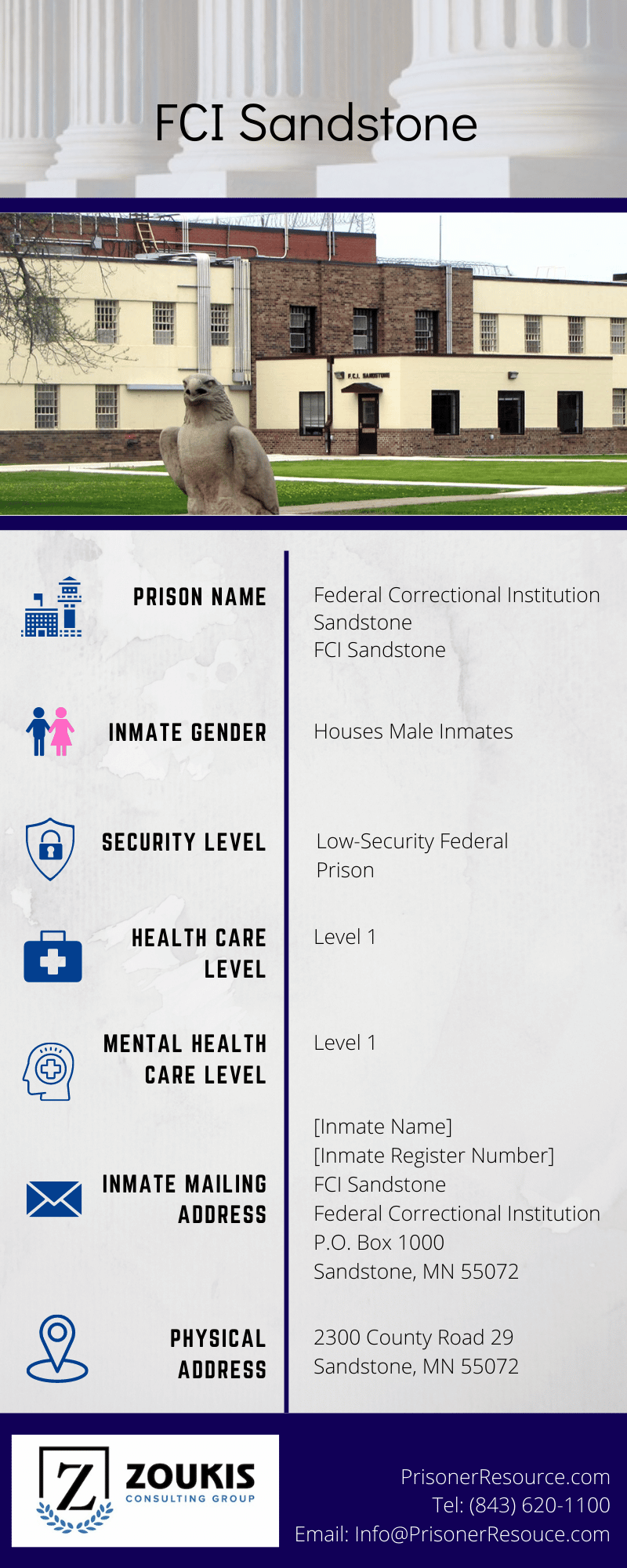 FCI Sandstone Prison Culture Information
Prison Politics at Federal Correctional Institution Sandstone
This is not a political yard. According to inmates, politics are only prevalent in the old housing units due to so few TV areas, but this isn't the case in the newer units, which have both TV rooms and TVs in the day room.
One respondent made a surprising comment, stating, "Staff are very political and are known to run inmate's paperwork and tell fellow inmates if they are a member of a vulnerable population."
Level of Violence
There is minimal violence at this facility. According to one inmate, "most of the small amount of violence is due to interpersonal issues regarding the placement of chairs and television channels."
Vulnerable Populations
Sex offenders, informants, and LGBT inmates can walk the yard. One respondent explained that some sports teams and areas would exclude sex offenders, but this is the exception to the rule.
Good at FCI Sandstone Prison
"Great indoor recreation, good ACE classes." "I like the Chapel and Library a lot." "Great food due to the culinary arts program." "You can get through the day without a lot of BS." "Food is decent."
Bad at FCI Sandstone MN Prison
"Cold weather." "No air conditioning, phones, computers, or laundry in the old housing units."
Other Inmate Comments
"One of the better spots in the BOP." "This is a decent place to spend time."
FCI Sandstone in the News
In 2021, Curtis Brent Carcio, an inmate at FCI Sandstone, pleaded guilty to attempting to obtain a controlled substance and was sentenced to an additional three months imprisonment. Carcio's codefendant had mailed a magazine soaked in K2, a synthetic cannabinoid substance, to the institution.
In December 2020, CBS Minnesota reported that over 80 percent of Sandstone Federal Correctional Institution inmates had contracted COVID-19.
More Information About Federal Correctional Institution Sandstone
If you want to learn about life in federal prison, you need to read Christopher Zoukis' Federal Prison Handbook: The Definitive Guide to Surviving the Federal Bureau of Prisons. This book provides a comprehensive look at federal prison life, from the intake process to release. Additionally, the book includes information on the different types of facilities operated by the Federal Bureau of Prisons and tips on making the most of your time in prison.
If you are interested in learning about Sandstone, MN prison, pick up a copy of the Directory of Federal Prisons: The Unofficial Guide to Bureau of Prisons Institutions. This book provides detailed information about FCI Sandstone federal prison, including a list of all the facilities and programs offered at the institution.
Published Apr 27, 2018 by Christopher Zoukis, JD, MBA | Last Updated by Christopher Zoukis, JD, MBA on Jun 4, 2023 at 6:28 pm