Federal Correctional Institution Morgantown is a minimum-security federal prison located in Morgantown, West Virginia. It is also known as FCI Morgantown and Morgantown WV federal prison. The facility houses male inmates.
Are you looking for information about FCI Morgantown? Wondering if your loved one qualifies for early release from custody? Our FCI Morgantown experts can help.
At Zoukis Consulting Group, we have a wealth of experience working with federal inmates and their families. We can answer your questions, help resolve any in-prison issues, and see if your loved one qualifies for early release from custody.
We understand the stress and anxiety of having a loved one incarcerated, and we are here to help. Contact us today to learn more about our services and to schedule an initial consultation.
FCI Morgantown Contact Information
Facility Address & Contact Information
Federal Correctional Institution Morgantown
446 Greenbag Road, Route 857
Morgantown, WV 26501
Phone: 304-296-4416
Fax: 304-284-3600
Email: [email protected]
BOP Website: Bureau of Prisons Page
Wikipedia: Wikipedia Page
Inmate Correspondence Address
FCI Morgantown
Inmate Name and Registration Number
FCI Morgantown
Federal Correctional Institution
P.O. Box 1000
Morgantown, WV 26507
How to Send Money
There are a few different options for sending money to federal prisoners. Family and friends can send money to an inmate through Western Union, Money Gram, or the National Lockbox in Des Moines, Iowa.
However, it's important to note that inmates may not receive funds directly. They must go through one of these third-party providers.
Each option has its own advantages and disadvantages, so it's essential to research before choosing one. For example, Western Union offers convenient online bill pay, but Money Gram has more locations nationwide. Ultimately, the best option depends on the individual case. No matter which method you choose, sending money to a loved one in prison is straightforward.
See our page on sending money to federal prisoners for more information.
Federal Correctional Institution Morgantown Inmate Information
Inmate Gender
Male Federal Inmates
Prison Security Level
Minimum-Security Federal Prison
Facility Location
On the southern edge of Morgantown, in north-central West Virginia.
BOP Region
BOP Institution Code
MRG for FCI Morgantown
Medical Care Level
Level 2. See our page on Medical Care Levels and Procedures for more information.
Mental Health Care Level
Level 2.
Judicial District
Northern District of West Virginia
Population Number
FCI Morgantown houses approximately 420 inmates.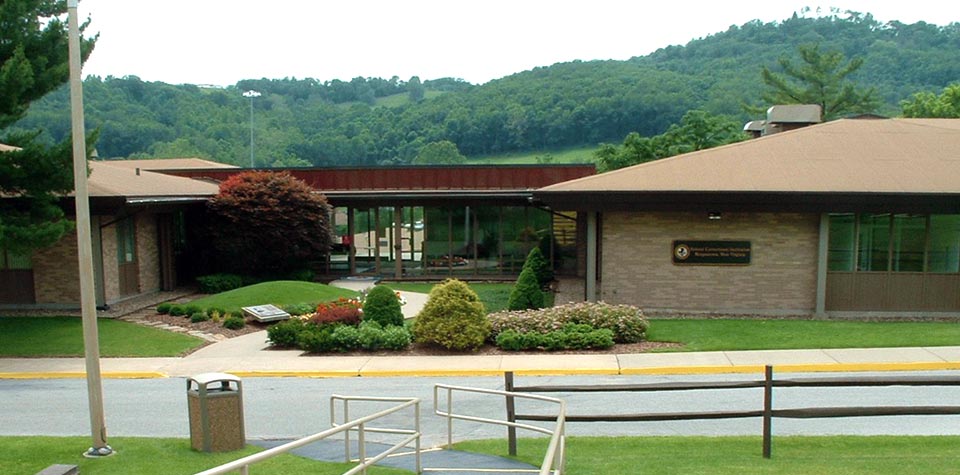 FCI Morgantown Prison Services Information
Background
Federal Correctional Institution Morgantown is a minimum-security federal prison located in Morgantown, West Virginia, which houses male inmates. It opened in 1969. The facility also contains a detention center.
Notable inmates include:
The first winner of the reality TV show Survivor Richard Hatch (convicted of tax evasion)
Former Arizona Congressman Rick Renzi (convicted of extortion, bribery, insurance fraud, money laundering, and racketeering)
Former mayor of Charlotte, North Carolina, Patrick Cannon (convicted of services fraud)
Former Ohio Congressman Bob Ney (convicted of services fraud)
In 2017, Insider Monkey named FCI Morgantown one of the ten easiest federal prisons to do time. In 2012, CNBC named the facility one of the 12 best federal prisons in which to do time.
Inmate Housing
Morgantown WV federal prison inmates live in dormitories, consisting primarily of two-person cubicles and rooms. There are several inmate housing units.
Health Services
The FCI Morgantown's Health Services Department is responsible for providing medical care to inmates. It offers various services, including initial evaluation, treatment of chronic conditions, and emergency medical care.
Sick call is on Monday, Tuesday, Wednesday, and Friday at 6:45 a.m. Pill and insulin lines are during breakfast and dinner.
The mental health team provides counseling and therapy services. The Bureau claims its goal is to offer high-quality medical care that meets the needs of inmate patients.
Psychology Services
During the admission and orientation program, inmates are interviewed individually by a psychology staff member. The interview aims to gather information about the inmate's mental health history and current symptoms.
This information is used to develop a plan for providing services during the inmate's stay at the facility. Psychology Services offer crisis intervention and brief counseling. Inmates may also be referred to outside mental health providers for additional treatment.
Residential Drug Abuse Program (RDAP)
FCI Morgantown offers a range of programs to help those struggling with drug addiction.
The Residential Drug Abuse Program (RDAP) provides intensive treatment for those willing to commit to a long-term program. The Non-Residential Drug Abuse Program (NR-DAP) is a less immersive option that still offers vital support and resources.
In addition, the Drug Education Class is open to all inmates and helps provide information and tools for those who want to overcome their addiction. These programs provide vital resources for those struggling with addiction, and they offer hope for a better future.
FCI Morgantown Educational, Library, and Recreation Offerings
Education Services
FCI Morgantown provides GED and English-as-a-Second Language (ESL) programs. Adult Continuing Education (ACE) courses are also available, with classes including Microsoft Office and a Job Search Class introducing inmates to various employment skills.
The Job Search Class covers various topics, including:
Career Explorations
Resume Writing
Portfolio Development
Job Market Search
Networking
Interview Techniques
Other ACE classes include space travel, introduction to auto body, civil rights, CDL, and finance.
A Mock Job Fair is also held once a year in the spring. Local employers and transitional services come into the institution and perform "mock" interviews. It is an all-day event, and inmates prepare for the event by attending a 10-week Job Search Class.
High school and post-secondary education are available through paid correspondence programs. Other prison education programs are also available to the inmate population.
Advanced Occupational Education
FCI Morgantown does not offer any advanced occupational education programs.
Vocational Training
No vocational training is offered at Morgantown, WV federal prison.
Apprenticeship
FCI Morgantown offers an apprenticeship in Welding.
Library Services
Inmates at the federal prison have access to both a leisure library and an electronic law library.
The leisure library offers a variety of books, newspapers, and magazines for inmates to check out, and an interlibrary loan program is available for items that are not currently in the collection.
The electronic law library provides inmates with 24-hour access to various legal resources, including federal and state statutes, case law, court rules, and more. Inmates also have access to typewriters and a copy machine for their legal work.
UNICOR
FCI Morgantown has a UNICOR facility that offers call center/help desk services.
Commissary
Inmates at federal prisons are permitted to shop in the commissary once per week, on their designated day. Currently, sales are conducted Monday through Thursday, and inmates can spend up to $360.00 each month on regular purchases and special purchase items.
Stamps, over-the-counter medications, TRULINCS credits, and phone calls do not count against this spending limit. The federal prison commissary offers a variety of items for purchase, including food, snacks, drinks, personal care items, and stationery.
The commissary is an integral part of prison life, as it provides inmates with a sense of normalcy and responsibility. It also offers them a chance to purchase items to make life in prison easier.
Recreation Services
FCI Morgantown's Recreation Department includes an auditorium, multi-purpose room, gymnasium, and indoor/outdoor sports and activities. While some recreational activities are organized, others are available on a leisure-time basis.
Recreation programs include:
Indoor and Outdoor Sports and Activities
Hobby Craft Programs
Health and Fitness Promotion
Disease Prevention Programs
Leisure time may be spent watching television, playing table games, or participating in sports. Hobbycraft activities are offered daily. The hobby shop includes crafts such as drawing, painting, leathercraft, crochet, and beading.
Outside, inmates have access to a weight pit, handball, Frisbee, soccer, track, softball, cornhole, and a track. After 4:00 p.m., inmates can walk to a second track that encircles a duck pond.
Hours of operation for outdoor recreation are 6:30 to 10:00 a.m., 11:00 a.m. to 3:30 p.m., and 5:00 to 8:30 p.m. Hours of operation for indoor recreation are 12:45 a.m. to 3:30 p.m. and 5:45 to 7:30 p.m.
Visitation Information for FCI Morgantown WV Federal Prison
At the Morgantown, WV federal prison, various visiting hours are available to accommodate the schedules of inmates' loved ones, including:
Sunday and Saturday: visitation is held between 8:00 a.m. and 3:00 p.m.
Friday: visiting hours are from 5:00 to 9:00 p.m.
Federal Holidays: visitation is held between 8:00 a.m. and 3:00 p.m.
Maintaining family ties is essential for both inmates and their loved ones. If you have any questions about these visitation policies, please don't hesitate to contact us. See our page on prisoner visitation rules for more information.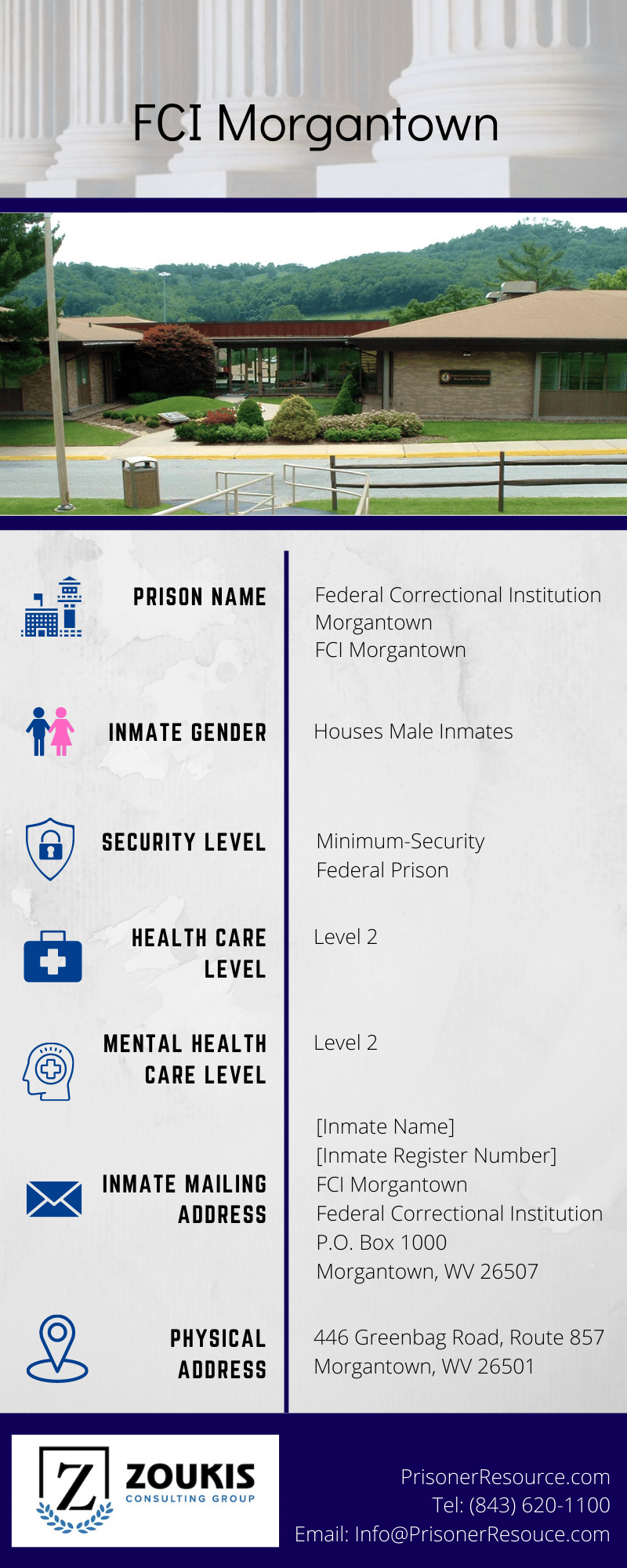 FCI Morgantown Prison Culture Information
Prison Politics at Federal Correctional Institution Morgantown
There are little to no prison politics at Morgantown, WV federal prison. According to one inmate, "There are no politics at all on the yard. Everyone houses with everyone else for the most part." Another respondent agreed, stating that this is "not a political yard."
Level of Violence
There is very little violence at this facility. According to one respondent, "The safety is a 10 out of 10. While there are a few fistfights from time to time, these are never serious and more like what you would see in middle school." Another inmate stated that there is "zero violence."
Vulnerable Populations
Due to not having a fence, sex offenders are not allowed by Bureau policy. Informants and LGBT inmates can stay. According to one respondent, "EVERYONE can walk the yard with no issue; this extends to informants and homosexuals."
Good at FCI Morgantown Prison
"No 10-minute moves." "The setting is beautiful and serene here."
Bad at FCI Morgantown Federal Prison
"The compound is run more like a Low than a Camp."
FCI Morgantown in the News
In February 2017, former Buffalo police officer Robert Eloff reported to Federal Correctional Institution Morgantown to begin his three-month prison term for falsifying an arrest.
In November 2014, the former mayor of Charlotte, North Carolina, Patrick Cannon, arrived at FCI Morgantown to begin his 44-month sentence for bribery. He was indicted and prosecuted by the United States Department of Justice.
More Information About Federal Correctional Institution Morgantown
If you are incarcerated in federal prison, it's crucial to understand the various rules and regulations you are expected to follow. Christopher Zoukis' Federal Prison Handbook: The Definitive Guide to Surviving the Federal Bureau of Prisons provides a comprehensive overview of life in federal prison, from the inmate classification system to the importance of developing a positive relationship with your case manager.
For more specific information about FCI Morgantown, Zoukis' Directory of Federal Prisons: The Unofficial Guide to Bureau of Prisons Institutions offers an in-depth look at the institution, including a list of the services and programs available to inmates.
These two books offer invaluable resources for anyone facing a federal prison sentence.
Your FCI Morgantown Federal Prison Experts
Zoukis Consulting Group is a national firm that specializes in assisting federal prisoners and their families. Our FCI Morgantown prison consultants have a wealth of experience and knowledge about the Bureau of Prisons, and we can help you navigate the often-complex federal prison system.
We can answer your questions about FCI Morgantown, help resolve any in-prison issues, and see if your loved one qualifies for early release from custody. Our goal is to provide you with the resources and information you need to help your loved one through this difficult time.
Contact us today to learn more about our services and how we can help you.
Published Apr 26, 2018 by Christopher Zoukis, JD, MBA | Last Updated by Christopher Zoukis, JD, MBA on Jun 4, 2023 at 6:06 pm