Federal Correctional Institution Phoenix is a medium-security federal prison in Phoenix, Arizona. It is also known as FCI Phoenix and FCC Phoenix. The facility houses male inmates. FCI Phoenix Camp is next to the central institution. The camp houses female inmates.
FCI Phoenix Contact Information
Facility Address & Contact Information
Federal Correctional Institution Aliceville
37900 N. 45th Avenue
Phoenix, AZ 85086
Phone: 623-465-9757
Fax: 623-465-5199
Email: [email protected]
BOP Website: Bureau of Prisons Page
Wikipedia: Wikipedia Page
Inmate Correspondence Address
FCI Phoenix
Inmate Name and Registration Number
FCI Phoenix
Federal Correctional Institution
37910 N. 45th Avenue
Phoenix, AZ 85086
FCI Phoenix Prison Camp
Inmate Name and Registration Number
FCI Phoenix Camp
Satellite Prison Camp
37930 N. 45th Avenue
Phoenix, AZ 85086
How to Send Money
Federal prisoners at the Phoenix, Arizona, prison cannot receive funds directly. Instead, family and friends can send money to an inmate through Western Union, Money Gram, or the National Lockbox in Des Moines, Iowa. Learn more about how to send money to federal inmates here.
Inmates may use these funds to purchase items from the commissary, pay for phone calls, or send money to their families. Funds can also pay for recreation, religious services, and educational programs.
Federal Correctional Institution Phoenix Inmate Information
Inmate Gender
FCI: Male Inmates
Camp: Female Inmates
Prison Security Level
Facility Location
FCC Phoenix is 30 miles north of downtown Phoenix, off I-17, Pioneer Road exit.
BOP Region
BOP Institution Code
PHX is FCI Phoenix
Medical Care Level
Level 2. See our page on Medical Care Levels and Procedures for more information.
Mental Health Care Level
Level 2.
Judicial District
District of Arizona
Population Number
FCI Phoenix houses approximately 990 inmates. The camp houses around 210 inmates.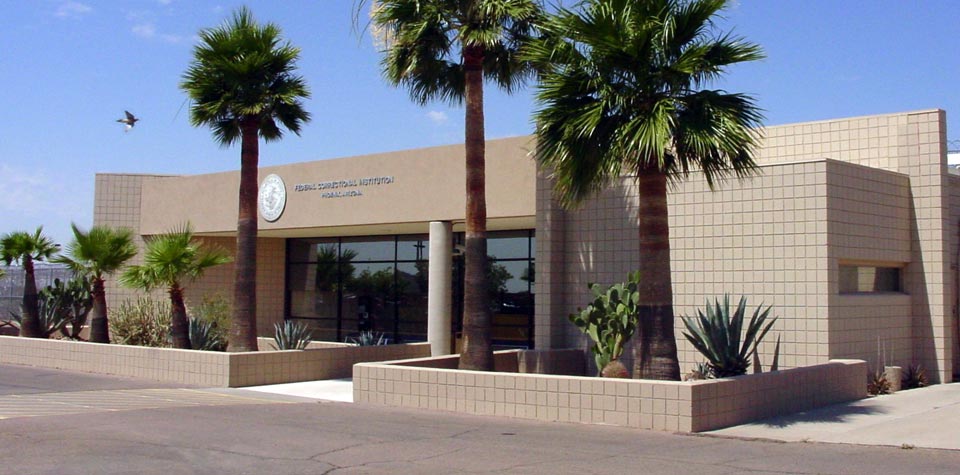 FCI Phoenix Prison Services Information
Background
Federal Correctional Institution Phoenix is a medium-security federal prison in Phoenix, Arizona, housing male inmates. It opened in 1985.
Federal Correctional Institution Phoenix Camp opened in 1989 and is adjacent to the primary institution. The federal prison camp houses female inmates. FCI Phoenix includes a jail unit that houses holdover inmates.
The FCC Phoenix prison complex is not the same facility as SCI Graterford, Arizona State Prison, SCI Phoenix, or Aspen SPU. It is a Federal Bureau of Prisons facility under the direction of the Department of Justice.
Notable inmates include former Steppenwolf drummer Jerry Posin, who served five years.
Media reports indicate that at least six guards have been indicted for sexually assaulting prisoners. Another guard was indicted for raping a girl when she was six years old. The abuse allegedly continued for seven years.
Inmate Housing
Inmates live in two- and three-person cells. There is a total of four housing units. Inmates at the camp live in dormitories divided into two-person cubicles.
Health Services
FCI Phoenix's Health Services Unit provides medical and dental sick calls, emergency care, eye care, physical examinations, and medications. Emergency medical care is available 24 hours a day.
Inmates are assigned to a primary care provider who treats them during their stay. Sick call is between 6:15 and 7:00 a.m. on Monday, Tuesday, Thursday, and Friday.
Psychology Services
The FCC Phoenix Psychology Services department provides these treatment services:
Intake Screening
Individual Psychotherapy
Group Psychotherapy
Personal Development Groups
Crisis Intervention
Regular groups include criminal thinking, cognitive behavior, and anger management.
Residential Drug Abuse Program (RDAP)
Both FCI Phoenix and the camp offer the Residential Drug Abuse Program (RDAP). Both facilities provide a Drug Education class, the Non-Residential Drug Abuse Program (NR-DAP), and Alcoholics Anonymous (AA).
FCI Phoenix Educational, Library, and Recreation Offerings
Education Services
FCI Phoenix provides pre-GED, GED (English and Spanish), and English as a Second Language (ESL) programs. Inmates who complete the GED and ESL programs and pass the GED and CASAS Certification exams, respectively, receive a financial incentive award (usually $25.00).
Adult Continuing Education (ACE) and parenting courses are available to the inmate population. High school diplomas and post-secondary degrees are available through paid correspondence programs.
Learn more about federal prison education offerings here.
Advanced Occupational Education
FCC Phoenix Medium offers advanced occupational education in Principles of Construction. The camp does not offer any advanced occupational education programs.
Vocational Training
Both FCI Phoenix and the camp offer vocational training in Carpentry. The central prison also provides Electrical, Plumbing, and ServSafe vocational training.
Apprenticeship
Phoenix Arizona prison and the camp offer apprenticeships in:
Cooking
Electrical
Electronics Tester
Electronics Utility Worker
HVAC
Landscape Tech
Plumbing
Quality Control
Recreation Assistant
The camp also offers apprenticeships in Front-End Mechanics.
Library Services
A law and leisure library is available to inmates. The TRULINCS Electronic Law Library contains case law from the federal districts, circuits, and U.S. Supreme Court for reference during the library hours of operation. Inmates also have access to typewriters and a copy machine.
FCI Phoenix maintains a leisure library with many books, including reference and general interest. The leisure library also participates in an interlibrary loan program with the City of Phoenix Public Library.
UNICOR
The FCC Phoenix federal prison's UNICOR facility produces electronics and plastics. The camp does not house a UNICOR facility.
Commissary
Upon arrival, inmates are given commissary cards. Inmate commissary/ID cards must be in possession of the inmate when out of the housing unit.
A spending limit of $360.00 per month is imposed. This is further divided into $180 biweekly limits. Postage stamps, over-the-counter medicine, copy cards, funds transferred to ITS (phone credits), and TRULINCS account unit purchases (inmate email) are exempt from spending limits.
Inmates may only shop on their designated shopping day each week. Commissary sales are conducted Monday through Thursday. Inmates must turn in their order the day before shopping to be assigned a number. Then, the following day, inmates go to the commissary to pick up their purchases.
Recreation Services
Indoor and outdoor recreational activities are available at FCI Phoenix. A comprehensive program of sports activities, including varsity and intramural teams, is available for inmate participation. These include varsity, intramural, and over-35 teams. There are leagues for:
Basketball
Soccer
Football
Softball
Tournaments are held regularly in addition to the regular end-of-season tournaments for league playoffs and championships. Weightlifting, walking/running, and stationary bicycles are also available.
Hobbycraft activities are available in both facilities. The central prison also has a music room and pool tables. The department opens at 6:00 a.m.
Visitation Information for FCI Phoenix
Family and friends can visit inmates during authorized times. Visitation is held between 8:00 a.m. and 3:00 p.m. on Sunday, Monday, and Saturday. On federal holidays visiting hours are from 8:00 a.m. to 3:00 p.m. See our page on prisoner visitation rules for more information.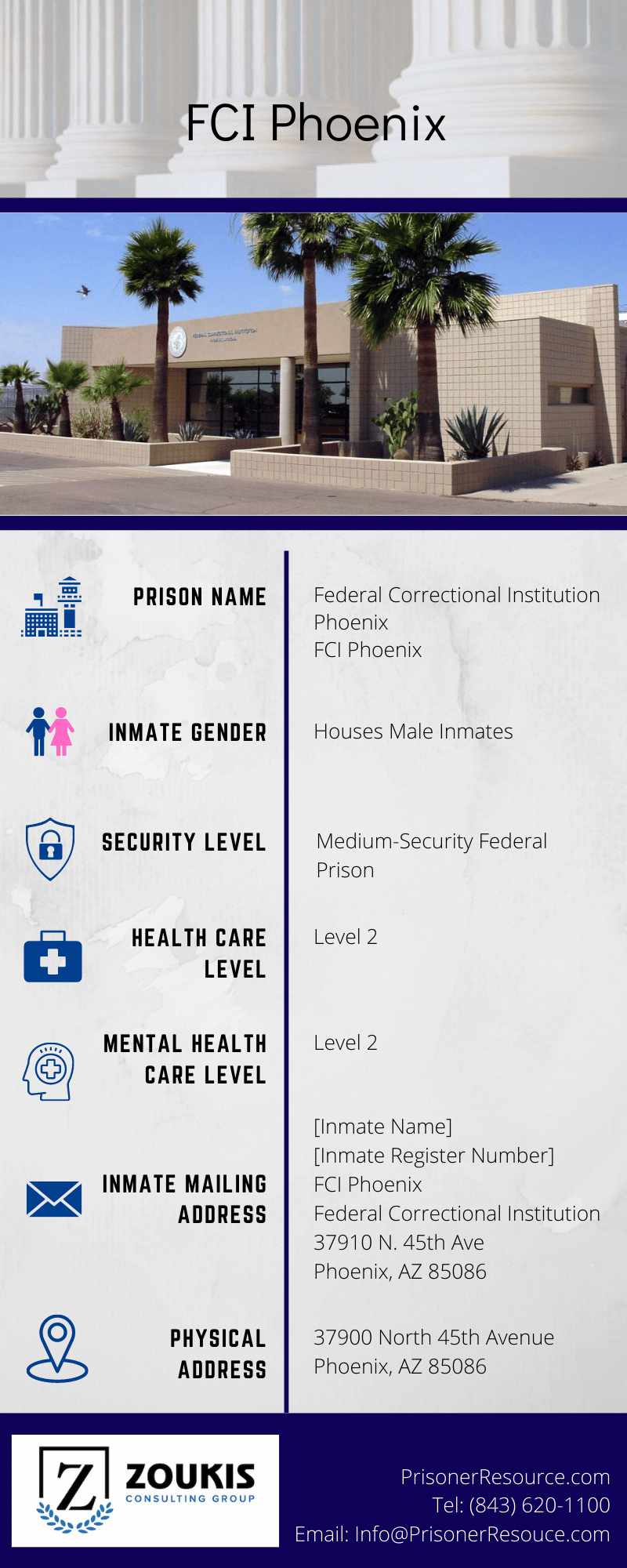 FCI Phoenix Prison Culture Information
Prison Politics at Federal Correctional Institution Phoenix
There is a low level of politics at FCC Phoenix prison. As stated by one inmate, "Politics on this yard are very light, but the racial politics can be mild. There are also a good number of Paisas and Southsiders."
Level of Violence
There is no real violence at this facility. According to one respondent, "It's pretty safe here."
Another agreed, stating, "There is no violence in this yard. It is safe here compared to the USP where I came from." Another respondent pegged the level of violence at a 2 out of 10.
Vulnerable Populations
Sex offenders, informants, and LGBT inmates can walk the yard. According to one inmate, "This place is full of informants. They seem to be the majority. Gay people also have no problems here."
Good at FCI Phoenix Arizona Prison
"You can do your own time. The Psychology Department is also good." "There are lots of palm trees."
Bad at FCI Phoenix Federal Prison
"Since staff thinks it is a soft yard, they are very disrespectful." "No type of computer training or any other training."
"Education and medical leave a lot to be desired." "The food is horrible." "The staff seem to have political issues with one another."
Other Inmate Comments
"FCI Phoenix has the potential to be nice." "Soft yard." "This is a good and clean yard. It reminds me of a college campus."
"You can do your own time here, but respect — from inmates and staff — does tend to be lacking."
FCI Phoenix in the News
In May 2013, Jose Arnulfo Martinez, a Department of Corrections employee at Federal Correctional Institution Phoenix, was convicted of sexually abusing one female prisoner on three occasions in 2008 and another female prisoner three times in 2010.
In August 2012, Carl David Evans, a kitchen supervisor at FCI Phoenix, was arrested and charged with sexual abuse of a ward and providing contraband to prisoners after being caught on an FBI surveillance camera engaging in sexual acts with two male prisoners.
In June 2007, Loren Williamson, a guard at FCC Phoenix, was arrested on charges that he raped a girl repeatedly from when she was six years old until his arrest when she was twelve.
Phoenix Prison Camp in the News
In March 2017, Edward Mendoza, a guard at the federal women's camp in Phoenix, was sentenced to 16 months for having sex with one of the prisoners on several occasions in 2015.
In July 2016, James Toadvine Jr., a recreation specialist at FCI Phoenix Camp, was sentenced to a year for sexual contact with a female prisoner.
More Information About Federal Correctional Institution Phoenix
If you're interested in learning about life in federal prison, two books by Christopher Zoukis are worth checking out. His Federal Prison Handbook: The Definitive Guide to Surviving the Federal Bureau of Prisons offers a comprehensive overview of what to expect during a stint in lockup, from the initial arrest and processing through day-to-day life behind bars and eventual release.
For those wanting more specific information about a particular facility, Zoukis' Directory of Federal Prisons: The Unofficial Guide to Bureau of Prisons Institutions provides detailed profiles of all 118 federal prisons, including FCI Phoenix.
Both books are essential reading for anyone facing federal imprisonment.
Published Jun 3, 2018 by Christopher Zoukis, JD, MBA | Last Updated by Christopher Zoukis, JD, MBA on Aug 7, 2023 at 8:50 am