Federal Correctional Institution Oxford is a medium-security federal prison located in Oxford, Wisconsin. It is also known as FCI Oxford. FCI Oxford Camp is next to the main institution. Male inmates are housed at both institutions.
FCI Oxford Contact Information
Facility Address & Contact Information
Federal Correctional Institution Oxford
County Road G & Elk Avenue
Oxford, WI 53952
Phone: 608-584-5511
Fax: 608-584-6314
Email: [email protected]
BOP Website: Bureau of Prisons Page
Wikipedia: Wikipedia Page
Inmate Correspondence Address
FCI Oxford
Inmate Name and Registration Number
FCI Oxford
Federal Correctional Institution
P.O. Box 1000
Oxford, WI 53952
FCI Oxford Prison Camp
Inmate Name and Registration Number
FCI Oxford
Satellite Prison Camp
P.O. Box 1085
Oxford, WI 53952
How to Send Money
If you want to send money to an inmate, you have a few options. You can send funds via Money Gram, Western Union, or you can use the National Lockbox in Des Moines, Iowa. All three methods have their pros and cons, so it's essential to choose the right one for you.
Western Union and Money Gram are generally the faster options, as funds are directly transferred into an inmate's account. However, it's important to note that Western Union and Money Gram charge fees for these services. On the other hand, the National Lockbox doesn't charge a fee, but the money may take longer to reach the inmate as it must go through the U.S. Mail.
Ultimately, it's up to you which method you choose. Just make sure you do your research to decide what's best for you and your wallet. And if you have any questions about sending money to an inmate, please read our sending funds to federal prisoners page.
Federal Correctional Institution Oxford Inmate Information
Inmate Gender
Male Inmates
Prison Security Level
Facility Location
Located in central Wisconsin, 60 miles north of Madison, off I-39 at County Road G and Elk Avenue.
BOP Region
BOP Institution Code
OXF for FCI Oxford
Medical Care Level
Level 1. See our page on Medical Care Levels and Procedures for more information.
Mental Health Care Level
Level 1.
Judicial District
Western District of Wisconsin
Population Number
FCI Oxford houses approximately 1,000 inmates. The camp houses around 80 inmates.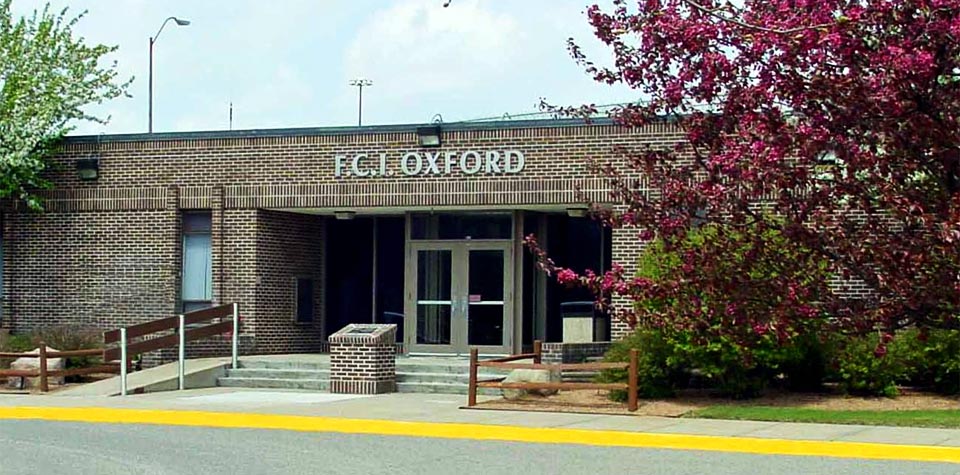 FCI Oxford Prison Services Information
Background
Federal Correctional Institution Oxford is a medium-security federal prison in Oxford, Wisconsin. It opened in 1973. Federal Correctional Institution Oxford Camp opened in 1985 adjacent to the main institution. Both federal prisons house male inmates.
Both facilities are United States federal prisons that house inmates convicted of federal crimes.
Notable inmates include:
Former Illinois Congressman Dan Rostenkowski (served 17 months for mail fraud)
Jesus Cortez Zambrano (serving a 27-year sentence for murder)
Former Illinois Governor George Ryan (convicted of corruption)
Media reports indicate that two guards have been charged with sexually assaulting inmates. One of the guards was also charged with lying to federal investigators. The other was also charged with smuggling contraband.
Another guard was charged with filing fraudulent mileage claims for reimbursement. News reports also state that an inmate has killed one guard at the institution.
Inmate Housing
Oxford Federal Correctional Institution inmates live in four units in one- and two-person cells. Inmates at the camp live in dormitories containing four-person cubicles.
Health Services
The Oxford, Wisconsin federal prison offers inmates various healthcare services, including:
Medical and Dental Sick Calls
Emergency Medical Services
Medications
Physical Examinations
Health Promotion and Disease Prevention
Diagnosis and Treatment of Chronic Infectious Diseases
Eyeglasses
Emergency care is available 24 hours a day. Inmates obtain routine care by attending the sick call. These are conducted at 7:15 a.m. Monday through Thursday.
Psychology Services
FCI Oxford has three psychologists who provide inmates with counseling and other mental health services. A psychiatrist also visits the institution regularly.
There are many alternatives for inmates who have personal problems and a desire to correct them. These options include self-image, PMA (Positive Mental Attitude), anger management, and other voluntary groups.
Unit staff is available for informal counseling sessions, and they conduct formal group counseling activities in the inmate housing units.
Residential Drug Abuse Program (RDAP)
FCI Oxford houses the Residential Drug Abuse Program (RDAP). The camp does not house the Residential Drug Abuse Program (RDAP). Both facilities offer the Drug Abuse Education Course and a Non-Residential Drug Abuse Treatment Program (NR-DAP).
FCI Oxford Educational, Library, and Recreation Offerings
Education Services
Oxford federal prison provides various educational programs to help inmates pursue their academic goals. These include literacy, GED, and English-as seconds language goals.
In addition, the Education Department has various Adult Continuing Education courses and parenting classes available for those who want them.
There are also paid correspondence schools where prisoners can earn high school diplomas and post-secondary degrees!
Advanced Occupational Education
FCI Oxford does not offer any advanced occupational education programs.
Vocational Training
FCI Oxford offers vocational training in Certified Production Technician and Culinary Arts.
Apprenticeship
The Oxford, Wisconsin, federal prison offers apprenticeships in Carpentry, Culinary Arts, and Dental Assistant.
The camp offers apprenticeships in:
Maintenance Repair
Painter
Stationary Engineer
Waste Water Treatment
Welding
Both facilities offer apprenticeships as a Bricklayer, Electrician, HVAC, Painter, Pipefitter, and Plumbing.
Library Services
The TRULINCS Electronic Law Library is in the Education Department. The legal library contains all materials required by BOP policy to prepare and submit federal questions of law, beginning with the Administrative Remedy process through the U.S. District Court, the U.S. Court of Appeals, and the U.S. Supreme Court. Typewriters, a copy machine, legal forms, and supplies for preparing legal documents are also available.
The resource and leisure library offers a wide range of reading materials. Books are also available for research as needed for college classes. In addition to books, the library subscribes to various magazines and newspapers.
UNICOR
There are no UNICOR facilities at FCI Oxford or the satellite camp.
Commissary
Inmates can spend up to $360 per month on regular purchases and $300 on special-purpose items. This spending limit does not include these items:
Telephone Credits
Postage Stamps
Over-the-Counter Medications
Email Credits
MP3 Songs
Prisoners can buy various items, including electronics, food, clothing, drinks, and shoes, in the prison's commissary. Federal prisoners use their prison identification cards to make these commissary purchases.
Recreation Services
FCI Oxford offers both structured and leisure time recreational activities. The gymnasium offers basketball, handball, racquetball, volleyball, soccer, and ACE Wellness classes. Also available inside are weightlifting, a billiards room, and a table game area (Ping-Pong, darts, etc.).
The outside recreation yard offers a softball field, a running track, tennis courts, bocce ball, horseshoes, and shuffleboard. The Hobbycraft Center is open to inmates interested in ceramics and leatherwork. Drawing and painting activities are available to inmates through the art program. Musical instruments are available in the recreation area.
Visitation Information for FCI Oxford Prison
Inmates using this facility may receive visits from family and friends. All visitors must be pre-approved before visiting an inmate during authorized hours.
The visitation hours for this facility are as follows:
Sundays and Saturdays: 8:15 a.m. to 3:00 p.m.
Federal Holidays: 8:15 a.m. to 3:00 p.m.
Prisoner visitation rules state that family and friends may visit inmates at this facility during these hours. For more information on how to visit an inmate, please see our page on prisoner visitation rules.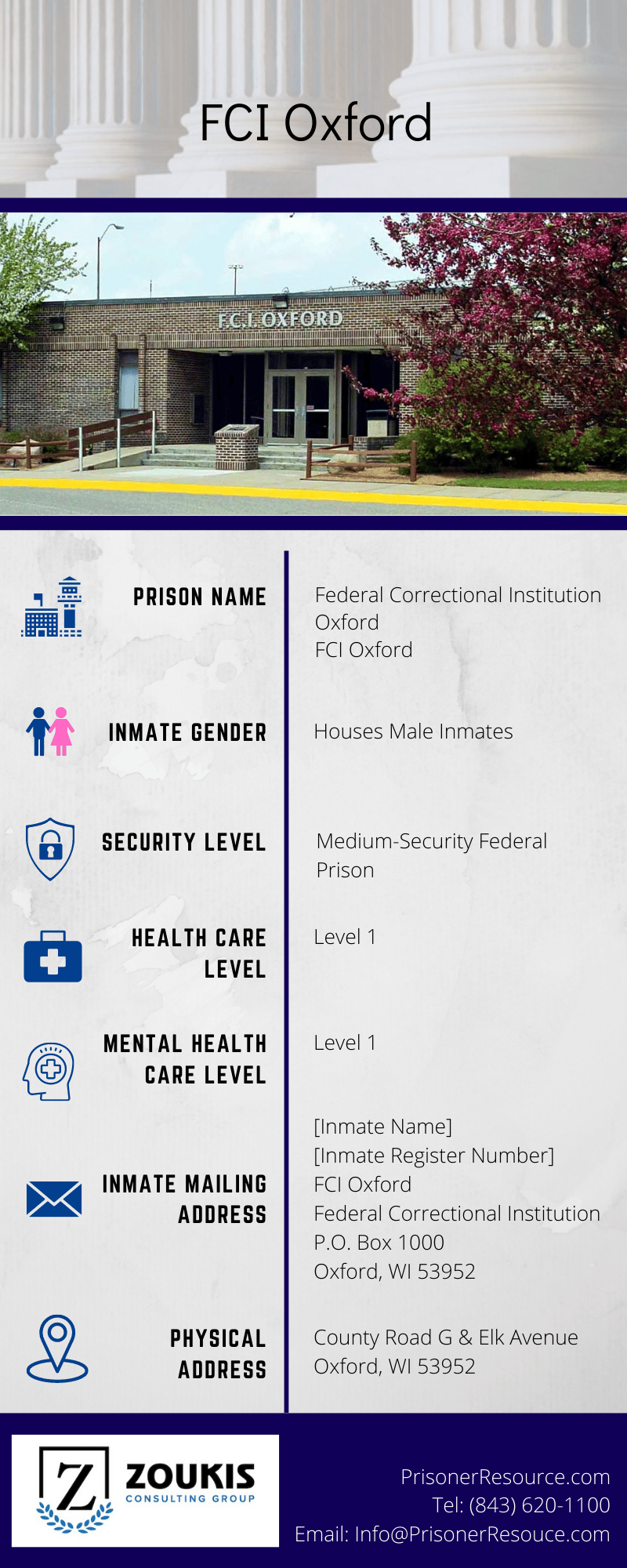 FCI Oxford Prison Culture Information
Prison Politics at Federal Correctional Institution Oxford
This is a somewhat political yard. According to one respondent, "different cars and groups claim tables in the chow hall." New arrivals typically have to show their racial group shot caller their paperwork.
Level of Violence
There is a moderate level of violence at the Oxford, Wisconsin, federal prison. According to one respondent, "There was an accused informant who got stabbed a little while ago."
Vulnerable Populations
While sex offenders, informants, and LGBT inmates can walk the yard, they have some problems. According to one inmate, "There are separate groups of sex offenders for each race. Each has its own table in the chow hall. We are all persona non grata, treated as non-people."
Another respondent agreed, stating, "sex offenders are often extorted, robbed, and assaulted by members of their own race."
Another inmate provided a personal example of how sex offenders are treated: "My paperwork was requested to be seen a few times when I came in. Instead of showing it, I opted to join the Native sex offender car. We are not allowed in the TV rooms." As it concerns LGBT inmates, another inmate expressed that "gays and transgender people are inconspicuous if they exist here."
Bad at FCI Oxford Federal Prison
"There is only air conditioning in the TV rooms and the cops' offices."
FCI Oxford Federal Prison in the News
In February 2017, Stacy L. Lenorud, an SIS official at Federal Correctional Institution Oxford, was sentenced to two years of probation after pleading guilty to sexual acts with a prisoner and smuggling in contraband for him. In a related case, FCI Oxford employee Amy Ziemann was indicted on charges of engaging in sexual acts with a prisoner and persuading Lenorud to testify falsely before a grand jury.
In 2014, Christopher A. Seifer, an electronics technician at the Oxford Wisconsin federal prison, was sentenced to 15 months in prison for filing 1,380 false mileage claims amounting to more than $100,000.
In 2007, former Illinois Governor George Ryan served time at FCI Oxford for corruption. In January 1984, Oxford federal prison guard Boyd Spikerman was killed by an inmate.
More Information About Federal Correctional Institution Oxford
Christopher Zoukis is the author of the Federal Prison Handbook: The Definitive Guide to Surviving the Federal Bureau of Prisons and the Directory of Federal Prisons: The Unofficial Guide to Bureau of Prisons Institutions.
Both books offer an inside look at life in federal prison and provide detailed information about specific facilities. The Federal Prison Handbook is a comprehensive guide covering everything from inmates' rights to prison programs and activities.
The Directory of Federal Prisons, on the other hand, provides more specific information about individual prisons, including contact information, inmate population data, and descriptions of the facilities.
If you're looking for a first-hand account of life in federal prison, either of these books is a good choice.
Published Apr 26, 2018 by Christopher Zoukis, JD, MBA | Last Updated by Christopher Zoukis, JD, MBA on Jun 4, 2023 at 6:14 pm