Federal Correctional Institution Tallahassee is a low-security federal prison located in Tallahassee, Florida. It is also known as FCI Tallahassee and Tallahassee Correctional Facility. The facility houses female inmates.
FCI Tallahassee Contact Information
Facility Address & Contact Information
Federal Correctional Institution Tallahassee
501 Capital Circle NE
Tallahassee, FL 32301
Phone: 850-878-2173
Fax: 850-671-6105
Email: [email protected]
BOP Website: Bureau of Prisons Page
Wikipedia: Wikipedia Page
Inmate Mailing Address
FCI Tallahassee
Inmate Name and Registration Number
FCI Tallahassee
Federal Correctional Institution
P.O. Box 5000
Tallahassee, FL 32314
How to Send Money
There are several options for sending funds to inmates at the Tallahassee federal prison. Two options are to use Western Union or Money Gram. Both of these companies have locations in most towns and cities, and they offer the convenience of being able to send money quickly and easily.
Another option is to use the National Lockbox in Des Moines, Iowa. The U.S. government provides this service. It is a safe and reliable way to send money to an inmate.
Funds sent to inmates at the federal prison in Tallahassee, Florida, can be used for various purposes, including purchasing items from the commissary, paying for phone calls, and even buying MP3 player songs. Whichever method you choose, include the inmate's name, registration number, and address on the form so that the money can be credited appropriately.
To discover more, go over our page on sending money to federal offenders.
Federal Correctional Institution Tallahassee Inmate Information
Inmate Gender
Female Inmates
Prison Security Level
Facility Location
FCI Tallahassee is located 3 miles east of downtown Tallahassee, on Highway 319 at its intersection with Park Avenue and Conner Boulevard.
BOP Region
BOP Institution Code
TAL for FCI Tallahassee
Medical Care Level
Level 2. See our page on Medical Care Levels and Procedures for more information.
Mental Health Care Level
Level 2.
Judicial District
Population Number
FCI Tallahassee houses approximately 755 inmates.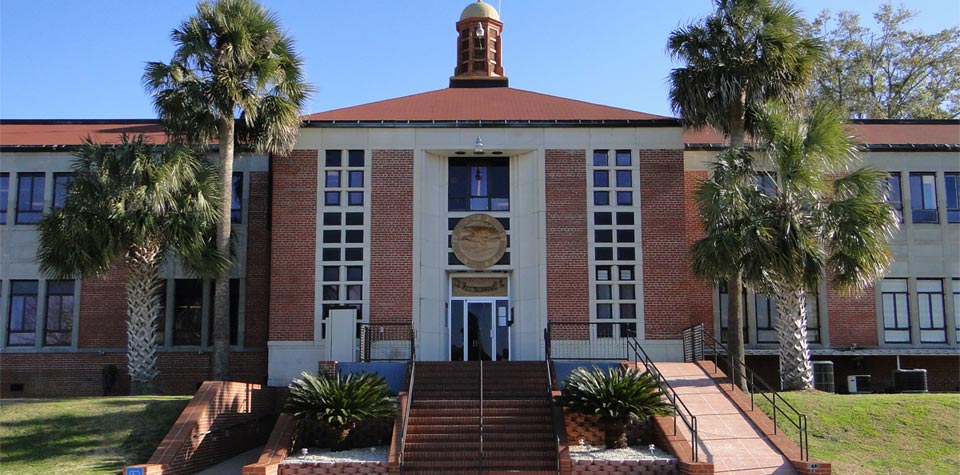 FCI Tallahassee Prison Services Information
Background
Federal Correctional Institution Tallahassee is a low-security federal prison in Tallahassee, Florida. It opened in 1938 and only houses female inmates.
FCI Tallahassee also has an adjacent detention center that houses male and female administrative-security level detainees and federal inmates. Male inmates are not housed at the regular federal prison.
Notable inmates include:
Terrorist Colleen LaRose (serving ten years for conspiracy to provide material support to terrorism and conspiracy to kill in a foreign country)
Earth Liberation Front member Chelsea Gerlach (served six years for arson)
Media reports indicate that at least eight Tallahassee Correctional Facility prison guards have been indicted for sexually assaulting female prisoners. The United States Department of Justice prosecuted them.
Inmate Housing
Inmates live in two-person cells (RDAP) and dormitories, divided into two- and three-person cubicles. Detention center inmates live in cells.
Health Services
FCI Tallahassee provides various healthcare and dental care services to inmates, including:
Emergency Medical Services
Physical Exams
Periodic Health Exams
Female Health Care
TB and HIV Testing
Medications
Dental Services
Eyeglasses
The detention center also provides various health care services, including:
Sick Calls
Medication Refills
Emergency Medical Services
Physical Exams
TB and HIV Testing
Dental Services
Emergency medical care is available 24 hours a day. A sick call is available at 10:30 a.m. Monday, Tuesday, Thursday, and Friday.
Psychology Services
All inmates at FCI Tallahassee are screened by Psychology Services staff during the institution's Admission and Orientation Program. Each housing unit also has a unit counselor and psychologist on staff to provide guidance, counseling, and other mental health services to unit inmates.
In the detention center, psychology services are available in short-term supportive counseling for those identified as having difficulty handling their current circumstances. Requests can also be made to speak to a psychologist.
Voluntary groups are also available, such as:
Self-Image
Anger Management
Trauma in Life
Seeking Safety
Thinking for a Change
The STAGES Program is available for inmates with serious mental illness and personality disorders.
Residential Drug Abuse Program (RDAP)
FCI Tallahassee offers the Residential Drug Abuse Program (RDAP). The Drug Abuse Program, the Non-Residential Drug Abuse Program (NR-DAP), and Alcoholic Anonymous (AA) are also available.
FCI Tallahassee Educational, Library, and Recreation Offerings
Education Services
FCI Tallahassee offers literacy, GED, and English-as-a-Second Language (ESL) programs. Adult Continuing Education (ACE), marketable skills training, and parenting courses are also available. Due to the short-term nature of the Detention Center, educational opportunities are limited. High school diplomas and post-secondary degrees are available through paid correspondence programs.
Learn more about federal prison inmate education programs here.
Advanced Occupational Education
Advanced occupational education programs at the Tallahassee federal prison include:
Business Education I & II
Building Trades I & II
Cosmetology
Horticulture
Custodial Maintenance Technician Program
Vocational Training
FCI Tallahassee offers Building Trades, Business Education, and Horticulture vocational training programs.
Apprenticeship
Apprenticeship programs at the federal prison in Tallahassee, Florida, are available to inmates in:
Construction
Electrician
Baker
Cook
Horticulturist
Housekeeper
Landscape Management Tech
Landscape Technician
Material Coordinator
Metal Fabricator
Office Apprenticeship
Painter
Plumber
Quality Control Inspector
Refrigeration Apprenticeship
Stationary Engineer
Teacher Aide 1
Wood Machinist
Library Services
A leisure and law library is available to Tallahassee Correctional Facility inmates in the central prison. In the detention center, reading materials are available in the housing units. The leisure library offers fiction and nonfiction books, newspapers, and magazines. The law libraries offer typewriters, copy machines, and the TRULINCS Electronic Law Library.
UNICOR
The FCI Tallahassee UNICOR facility handles services.
Commissary
Inmates are permitted to spend $360.00 per month in the inmate commissary for regular purchases. Postage stamps and over-the-counter medication are exempt from the spending limit.
Inmates may shop once a week on their designated shopping day. Shopping is conducted Monday through Thursday. Inmate funds are retained by the institution in a trust fund from which the inmate may withdraw money for:
Personal Spending in the Institution Commissary
Family Support
Other Approved Purposes
Accumulated institutional earnings and money sent from outside are given to the inmate upon release or may be mailed home.
Recreation Services
Recreational programs at FCI Tallahassee and the detention center include both indoor and outdoor activities.
Indoors, inmates can participate in various recreation activities, including:
Artwork and Hobby Craft Program
Talent Shows
Movies
Lectures on Health and Exercise
Outdoors, inmates can engage in individual and group exercises, sports, and other leisure activities. Popular activities include:
Yoga
Pilates
Weights
Softball
Flag Football
Frisbee
There is also a track. Hours of operation are 6:00 to 10:30 a.m., 12:00 to 3:30 p.m., and 5:00 to 8:30 p.m.
Visitation Information for FCI Tallahassee
Family members and friends can visit inmates during authorized visiting hours. On Sunday, Friday, and Saturday, visitation is held between 8:30 a.m. and 3:00 p.m. On federal holidays visitation is held between 8:30 a.m. and 3:00 p.m. See our page on prisoner visitation rules for more information.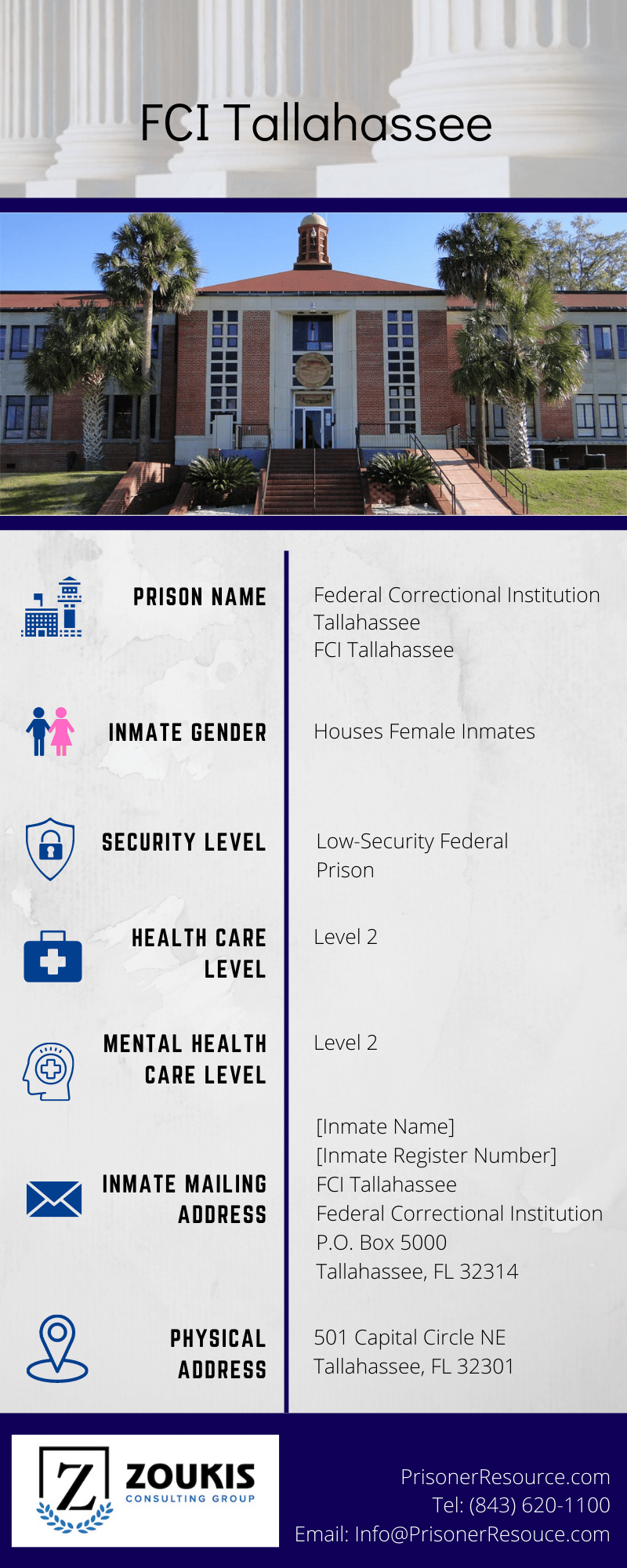 FCI Tallahassee Prison Culture Information
Prison Politics at Federal Correctional Institution Tallahassee
There is a low level of politics at this facility. According to one inmate, "Due to the yard being for women, there really isn't any politics." Another respondent explained, "Everyone works out together and helps each other."
Level of Violence
While most inmates felt that there was little to no violence at Tallahassee Correctional Facility, others felt that there was a low to moderate level of violence. As explained by one respondent, "There is no violence. I have never felt unsafe."
Another inmate stated, "Due to the inmate population's age being so young, I would peg it as a 5 to 7 out of 10 for safety. It's not 100 percent safe, but the staff manages it very well."
Vulnerable Populations
Sex offenders, informants, and LGBT inmates can walk the yard. According to one respondent, "Sex offenders can walk the yard. I also have a transgender cellie. Neither group seems to have problems."
Another inmate stated, "Everybody can walk, even women who killed their children or other people's children. Nobody cares. And nobody cares about informants either." Another respondent explained, "Everyone and anyone can walk the yard."
Good at FCI Tallahassee Federal Prison
"There is nothing good." "They offer a variety of programming to those who really want it." "This is a good place to program."
Bad at FCI Tallahassee Prison
"We have to wear pants even when it is 100 degrees outside." "We need more good staff members that are consistent and caring about their job." "Medical care is pretty deplorable."
Other Inmate Comments
"The warden is not inmate friendly, and that shows everywhere. Sadly, I am a repeat offender and was released from this facility in 2010. There were many more programs available, and medical was way better than it is now."
FCI Tallahassee in the News
In April 2014, Angel Santiago, a guard at Federal Correctional Institution Tallahassee, pleaded guilty to engaging in a sexual act with a prisoner.
In June 2006, Ralph Hill, a guard at FCI Tallahassee, opened fire on FBI agents who came to arrest him and five other guards — Alfred Barnes, Gregory Dixon, Vincent Johnson, Alan Moore, and E. Lavon Spence — in a sex-for-contraband scheme. Hill was killed along with Inspector General Agent William Sentner.
In June 1998, William Hock, a guard at Tallahassee Correctional Facility, was convicted of having sex with female prisoners.
More Information About Federal Correctional Institution Tallahassee
For a comprehensive look at life in federal prison, pick up a copy of Christopher Zoukis' Federal Prison Handbook: The Definitive Guide to Surviving the Federal Bureau of Prisons. For more detailed information about FCI Tallahassee, please buy a copy of the Directory of Federal Prisons: The Unofficial Guide to Bureau of Prisons Institutions by Christopher Zoukis.
Published Jun 3, 2018 by Christopher Zoukis, JD, MBA | Last Updated by Christopher Zoukis, JD, MBA on Jun 4, 2023 at 6:35 pm